As part of our full line solution, Sealpac UK & Partners offer multihead weighing and batching capabilities courtesy of Cabinplant.
To provide our customers with weighing and batching capabilities, we are proud to have partnered with Cabinplant whose class-leading multihead weighing and batching technologies are based on decades of knowledge and experience. From multihead weighing to multibatch distributing, we are able to offer a range of solutions that will help to optimise your production lines with increased accuracy and greatly reduced waste and give-away. These highly developed products can handle products from fresh meat, poultry and seafood to even the stickiest of products including marinated proteins, pasta and noodles.
Multihead weighing solutions
Whether screw-fed or vibratory fed, multihead weighers are designed to meet the increasing demands of precision and speed during the weighing process of difficult products. They are available in a wide range of models, so we can meet your production line demands, perfectly configured to give optimal weighing, mixing and accuracy, even with the most difficult to handle products. They are also extremely reliable and robust, ensuring that there is minimal risk of breakdown, especially when paired with a tailored service contract.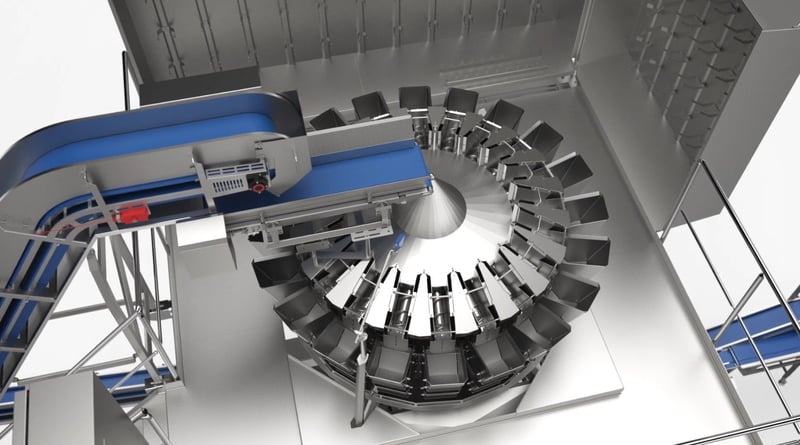 Weighing and batching
Tailor-made for your exact requirements, Multibatchers offer high-speed accuracy, perfect for optimising the cost of production and reducing give-away. Designed to combine high volume with low waste, they can be configured for stand-alone use or as part of a complete line, making them a hugely flexible solution that will give great ROI in either kind of environment. We can work with you to configure the best possible solution for your needs – contact us to
arrange a consultation
with one of our experts.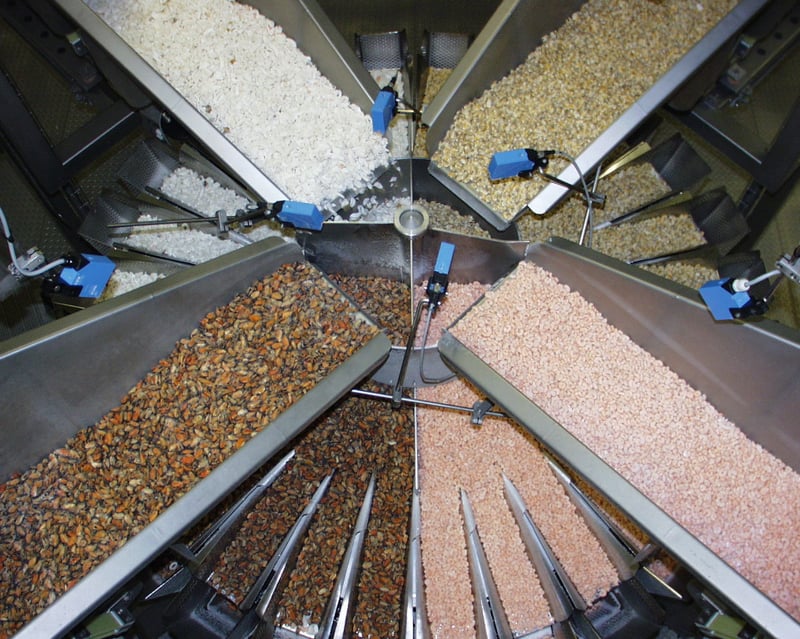 Screwfeed Multihead Weighing Technology
The Cabinplant screw-feeding multihead weigher has been granted several patents worldwide for its unique ability to handle difficult products, especially those that are fragile, wet or sticky. This flexible machine can be adapted to cater for many different needs. For example, rollers can be integrated between the individual channels when handling long products. The screw-feeding multihead weigher features continuous weighing, rotating cones on top, and screw dosing time that automatically adjusts as a function of partial portion weighing. The screw feeding system dispenses the product with special screws into assembling pans, and sensor gates ensure this is optimal. This ensures feeding of only one piece of product into each pan, thus obtaining the best possible combinations, to help you achieve the highest degree of accuracy and reduce give-away costs considerably.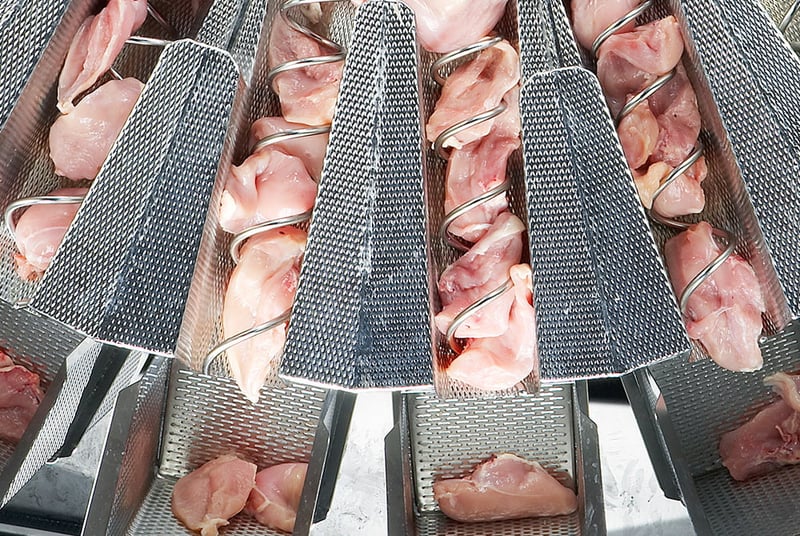 In-line marinade
Marinating meat and poultry products usually requires a lot of cleaning of production equipment due to the increased spillage of marinade. The Cabinplant Marinating System is placed in-line with the packing line, instead of after portion weighing. This means that the multihead weigher and the conveyors are not soaked in marinade. As portioned products are discharged into the mixing units they are covered with the perfect amount of marinade to cover the them, with no surplus. After marinating, the product is delivered directly into trays, avoiding spillage on the tray edges. With the Cabinplant marinating system, the spillage and cleaning required after marinating is reduced significantly, improving your return on investment.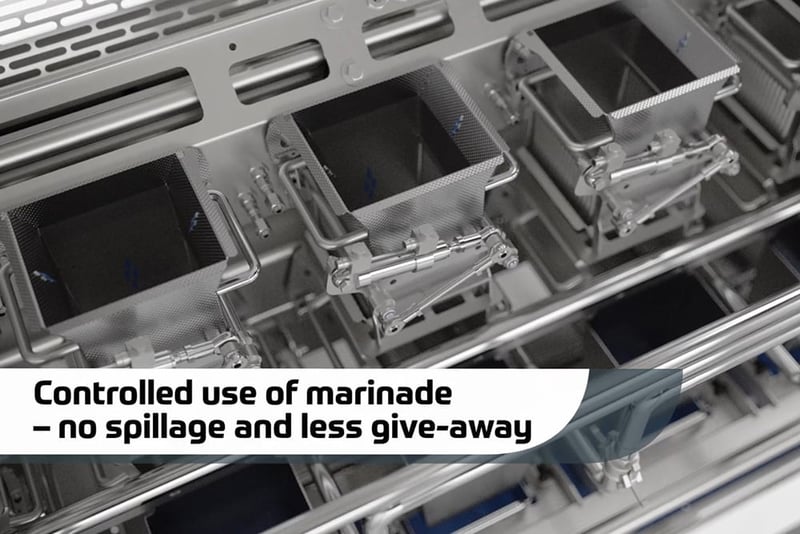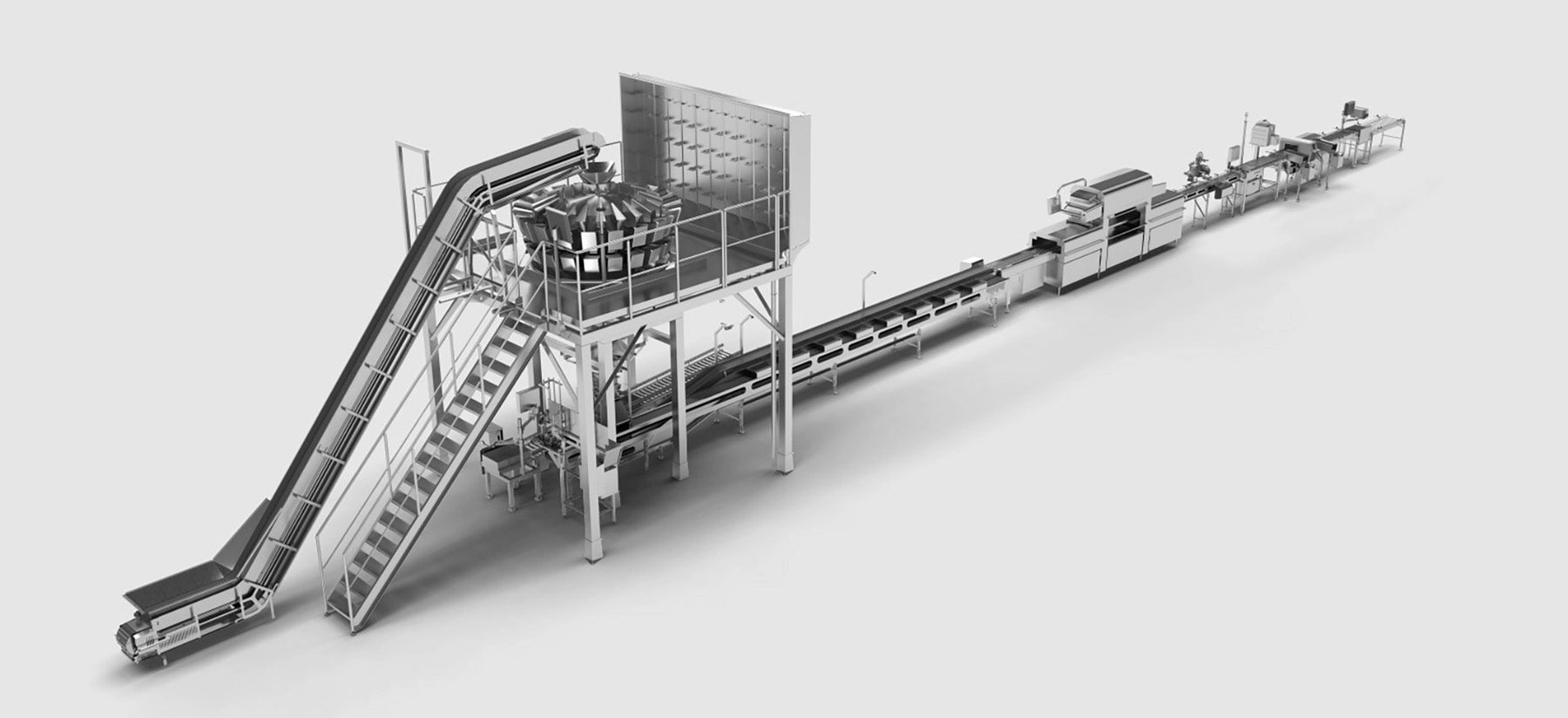 How can you benefit from our expertise?
Whatever your production line requirements, we have the expertise that can really make a difference to your overall efficiency and operating costs. Get in touch with us today to arrange a consultation with our expert team and let's explore the possibilities.


Get in touch
Full line solutions
We design and project manage the installation of bespoke machines across the full production line. Our network of partnerships has helped us to expand our range to offer automated full line solutions which are flexible enough to fit around your business needs and respond to a changing market.
Case Study

Automation vs. Human Labor: Finding the Right Recipe for Efficiency in Food Processing

In the dynamic landscape of the food processing industry, the debate between automation and manual labor has always been a critical consideration for...

Read the full Case Study