Processing, Blanching, Thawing & Marination
Automated processing with Cabinplant covering 3 areas; blanching, marinating and depositing.
Cabinplant are experienced at improving efficiency in processing and packing lines. From blanching and marinating, to weighing and liquid filling – they specialise in finding the right solutions for all product types, especially those that are difficult to handle. Marinating meat, poultry and seafood products usually requires a lot of cleaning of production equipment due to the increased coverage of marinade through the machinery.
The Cabinplant Marinating System is placed in-line with the packing line, instead of after portion weighing. This means that the multihead weigher and the conveyors are not soaked in marinade. Continuous Liquid Filler (CLF) ensures precise pre or final filling of liquids like tomato sauce, oil and brine, soups, or marinades into trays, cans or glass jars.
The IBC blancher/cooler with top lift is divided into three main sections: preheating, blanching and cooling. This design incorporates a highly efficient heat recovery system, which makes the IBC renowned for its extremely low consumption of steam and cooling water. The Blancher can be combined with a cooling system to complete the processing.
At Sealpac UK & Partners we are
CUSTOMER FOCUSED
We provide Consulting, Equipment, After-Sales support across your line
We listen to our customers and spend time understanding their needs and work together to bring them the best possible solutions
Future Proofing Organisations
Our key focus is to create bespoke, flexible, full line packaging solutions to reduce your carbon footprint but also is flexible enough to handle future packaging innovations. Our machines are world-renown for providing multiple applications all within one machine or with one tool change that can be done within 10 minutes.
Helping you achieve operational efficiency
Provision of after-sales service contracts to minimise downtime and Supporting Professional Development training to upskill staff
CUSTOMER FOCUSED
We find solutions to meet consumer demands, with our experience, expertise and network of the best in class and R&D efforts we are committed to continuous improvement. We ensure you invest in the right equipment. It means whatever equipment you buy today will need to work with future packaging solutions from machines that are world-renown for providing multiple applications.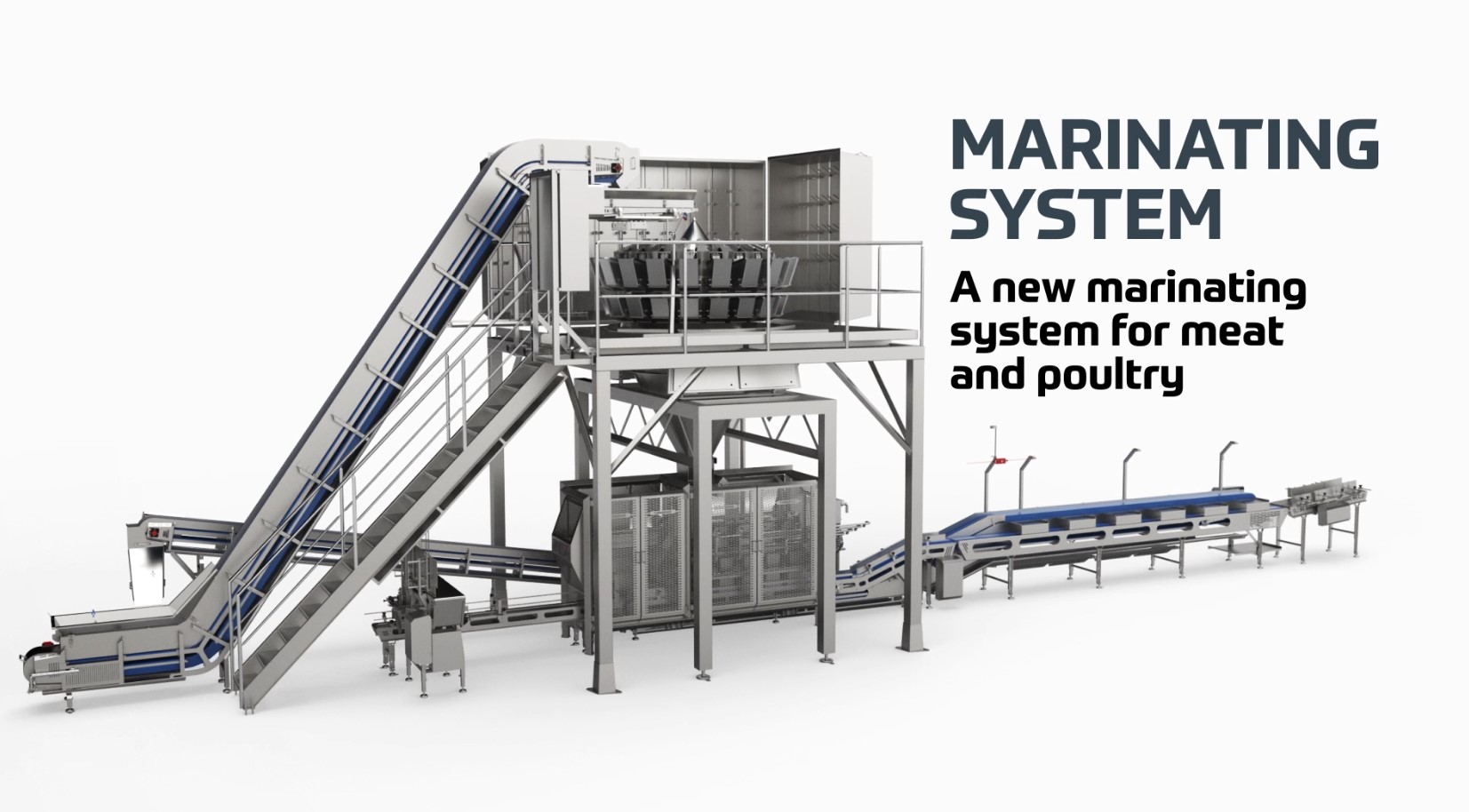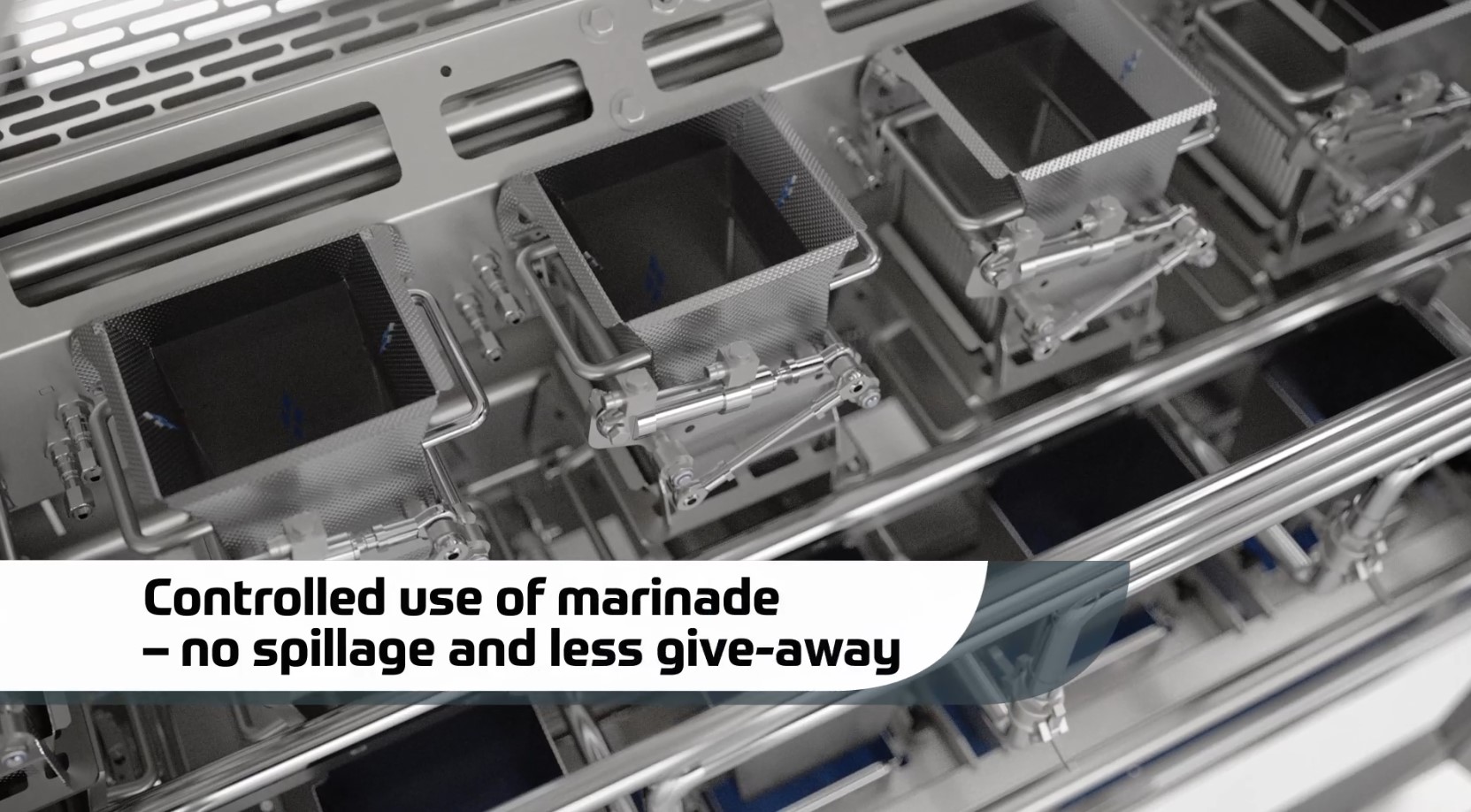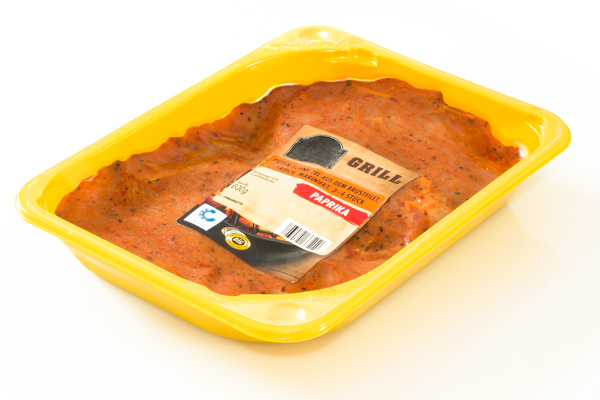 Marinade System - Features & Benefits
80% reduction on cleaning time required with an in line marinade system
Fast and easy change of marinade – less than 20 minutes
Excellent weighing accuracy
No marinade on conveyor and multihead weigher
No give-away when handling small negative tolerances
No spillage
Minimum maintenance
Meets market demands for low and high volume production
Single supplier for blanching, cooking and chilling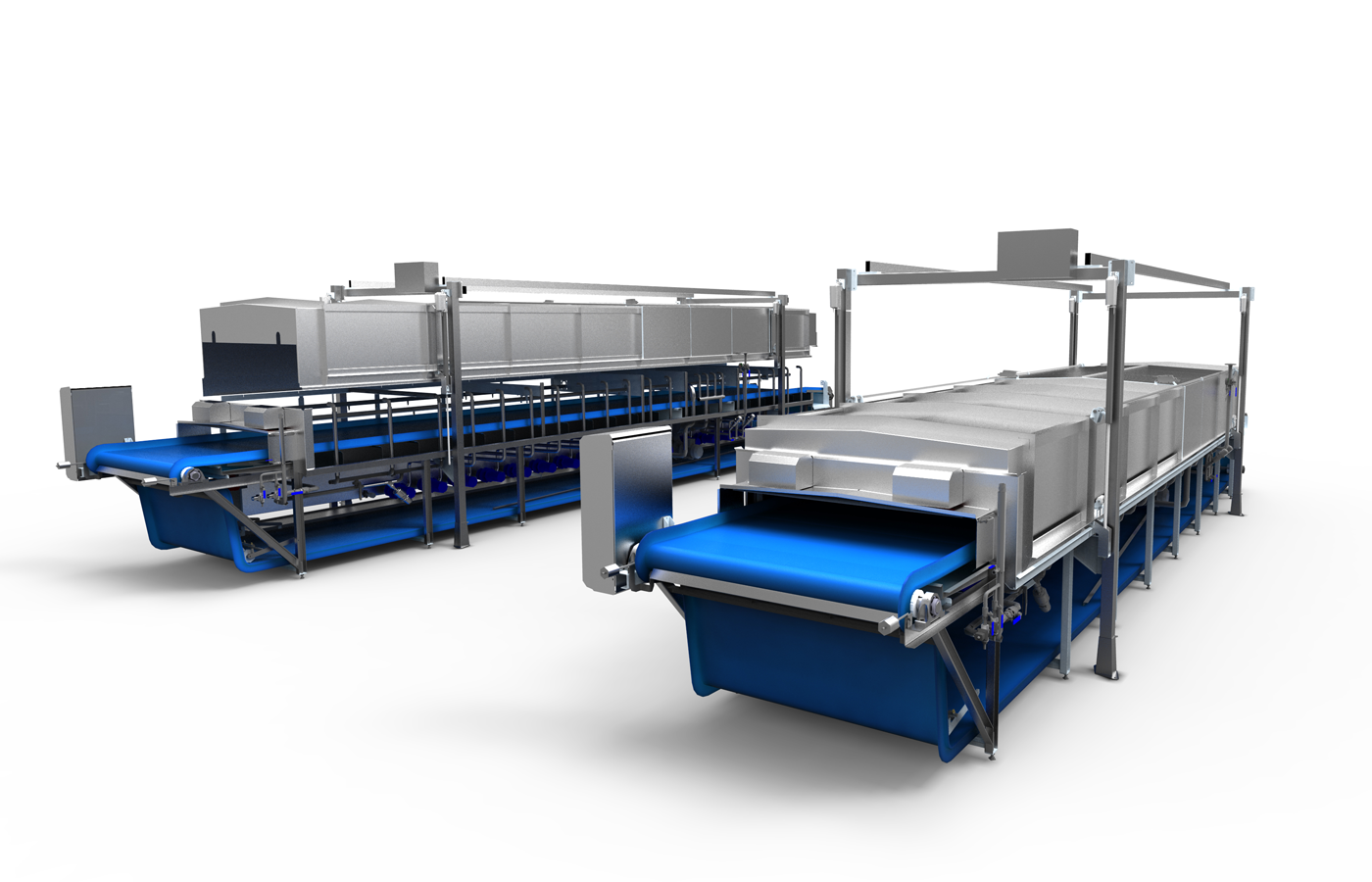 Blanching
IBC blanchers offer the lowest consumption of steam. The IBC blancher/cooler with top lift is divided into three main sections: preheating, blanching and cooling. This design incorporates a highly efficient heat recovery system, which makes the IBC renowned for its extremely low consumption of steam and cooling water.
The heat, which is removed from the product during cooling, is reused for pre-heating of product prior to blanching. In this way the consumption of steam can be reduced to just 40 per cent of what is normally required for blanchers without heat recovery.

Integrated Blancher and Cooler (IBC) with forced steam is a new and unique solution from Cabinplant. This new development is specialized in the blanching of fruit and vegetables. The forced steam principle, where the steam is circulated, ensures a highly uniform blanching of fruit and vegetables without washing out taste and nutrients. At the same time, it also reduces steam consumption by 40-50% because the equipment is fitted with a preheating zone, in which the cooling water that has been
heated during the cooling process is recirculated.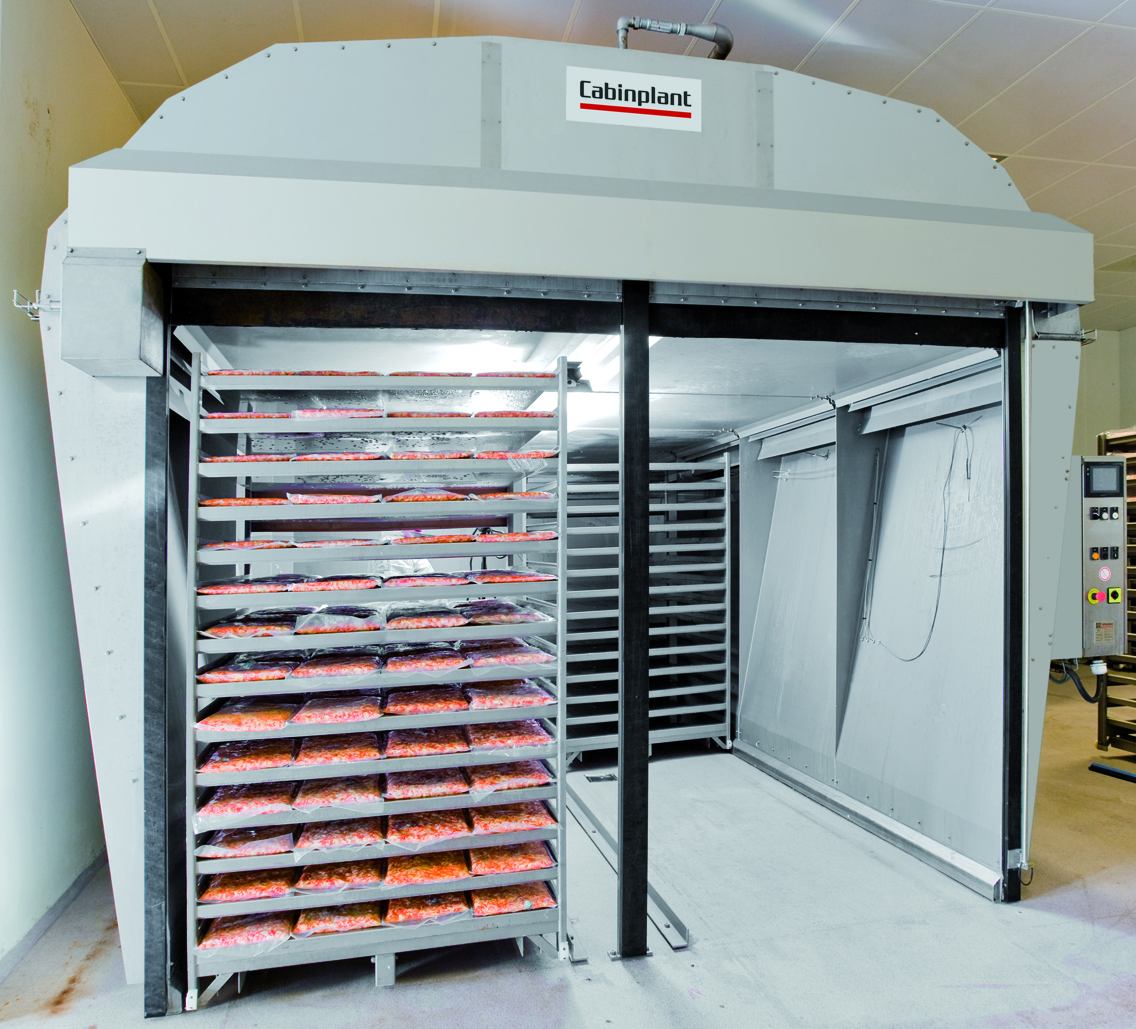 Thawing
Thawing systems save you time and money whilst giving you the best quality product.
The in line systems for retail packing can be integrated in to your line to control your product quality for optimal packing temperature and condition. Simply load frozen product one end and the product will flow to the next stage for weighing and packing.
Alternatively you can select a thawing chamber for controlled thawing of IQF products as well as solid frozen blocks. Loading and unloading systems make it a safe way to handle heavy ice blocks. Systems range from 2 to 12 chambers.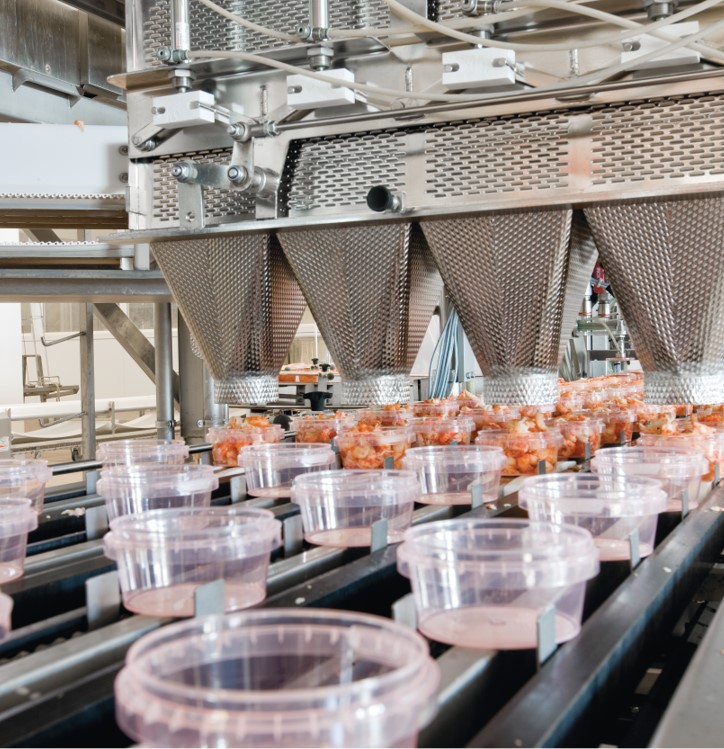 Distribution tools
The distribution tools are a key function when product needs to be accurately deposited in various container types, such as trays, cans, glass jars, bags and multiple pocket thermoformer applications.
The product is distributed to the individual trays, pots or jars safely and efficiently.
Tools are designed for all applications from single to multiple compartments.
Brochure Datasheet request
World-class after sales support
Increase your OEE and ensure success with routine maintenance, easy access to spare parts, and a range of one-off engineering support services.
Talk to our experts
Curious to know how we can handle your products and improve the process? Get in touch for a free consultation to discuss your requirements with us today.
Full-line solutions from Sealpac UK & Partners
We design and project manage the installation of bespoke machines across the full production line. Our network of partnerships has helped us to expand our range to offer automated full line solutions which are flexible enough to fit around your business needs and respond to a changing market.