We partner with leading experts in optical sorting technology for dry foods, snacks, confectionery, fruits and vegetables
A wide range of optical inspection quality control solutions are available, for products ranging from leaf salad and chopped vegetables, through to potatoes and oranges. The specialist inspection equipment also has benefits for other dry foods, including confectionery.
Fruit and produce sorting
Optical fruit and vegetable sorting machines that use the 'high speed double vision' system to detect product imperfections. Raynbow analyses 100% of the surface of each product, even detecting the presence of rot and foreign bodies within the product.
Raynbow is a hexa-chromatic machine equipped with NIR (Near InfraRed) technology for Visible Colour analysis. NIR detects imperfections, whilst Visible Colour detects defects on the outside, such as yellowing, damage, etc. Additional optional modes provide chlorophyll analysis to allow deep accurate detection in chlorophyll high produce such as apples and green beans.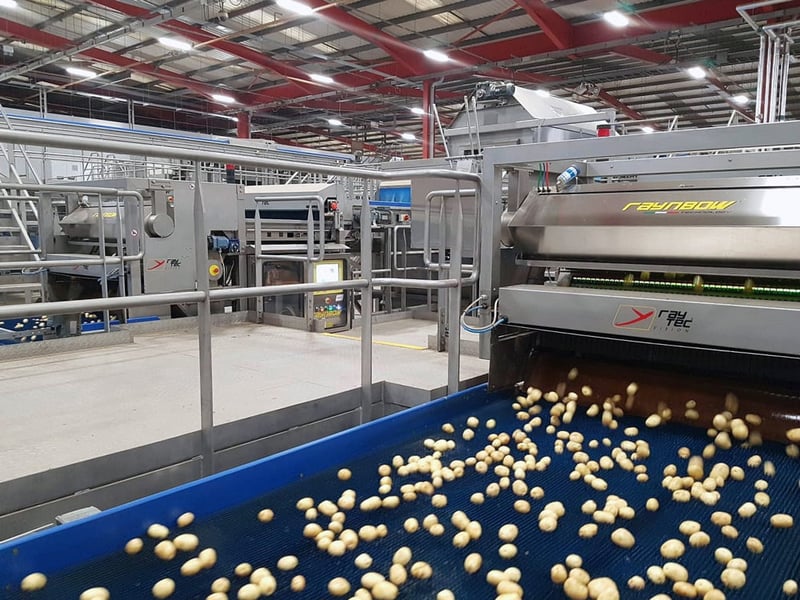 Salad, diced, fruit sorting – to name a few
Curiosity is the first optical sorting machine to achieve total hygiene compliance according to the EHEDG guidelines. The half-hexagonal shape ensures every corner of the machine can be cleaned in depth, and the absence of hollow tubes is designed to make Curiosity less prone to harbouring microorganisms. The machine's open frame shape allows for any cable to be wired without the need for unhygienic wire clumps, which aids the sanitisation process.
This deca-chromatic machine uses an LED pulsed light with a CCD camera with 0.3 x 0.3mm resolution to efficiently sort waste product from usable produce. Curiosity also provides image captures of the line in real time, and detects statistical data on rejected products for quality analysis of the selected raw material.
Curiosity is fitted with a traction controlled, stabilised belt that can be changed in under five minutes, without the need for additional tools.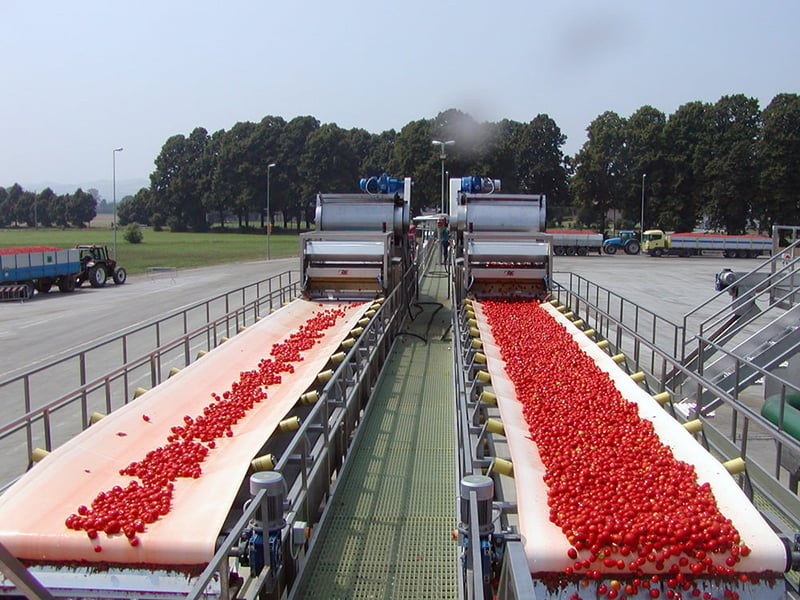 Confectionery, seafood and protein sorting
Dried and frozen produce sorting machine using the highest resolution cameras to examine the product using the 'free fall double side view' system. A vibratory shaker bed conveys the product to a vertical chute ensuring a consistent trajectory. Dryce analyses 100% of the surface of each item and, at the same time, detects internal imperfections accurately and efficiently.
Dryce is equipped with NIR (Near InfraRed) technology for Visible Colour analysis, Chlorophyll analysis, Translucency analysis, Shape analysis, Blob function, Stem function, Glass function and Big Stop. NIR detects imperfections inside the produce, whilst Visible Color detects colour defects on the outside, such as yellowing, damage etc. Chlorophyll analysis provides deep accurate detection in chlorophyll-high produce. Translucency analysis enables detection of stones in dehydrated fruit and contaminants on the belt side of the produce. Shape analysis ensures quality and uniformity by detecting misshapen or damaged goods. The Blob function ensures weight consistency, whilst the Glass function detects translucent foreign bodies such as glass or plastic. A programmable Big Stop is the final whistle in the detection of dangerous foreign bodies.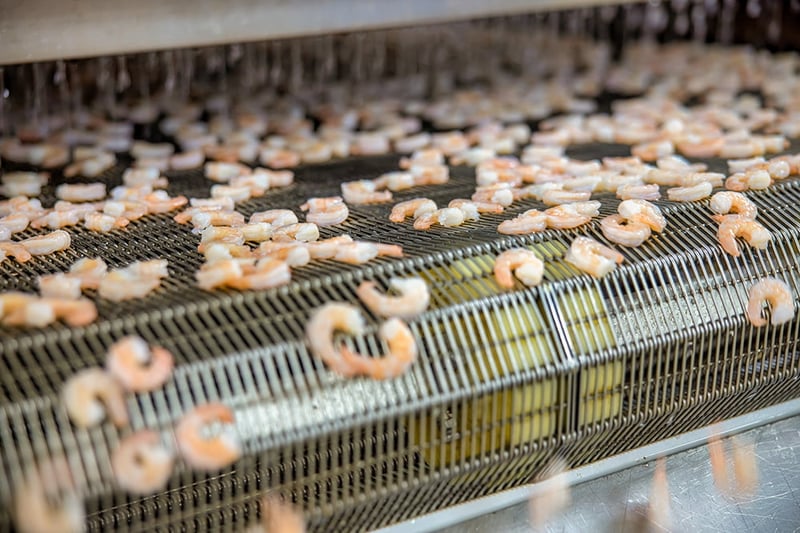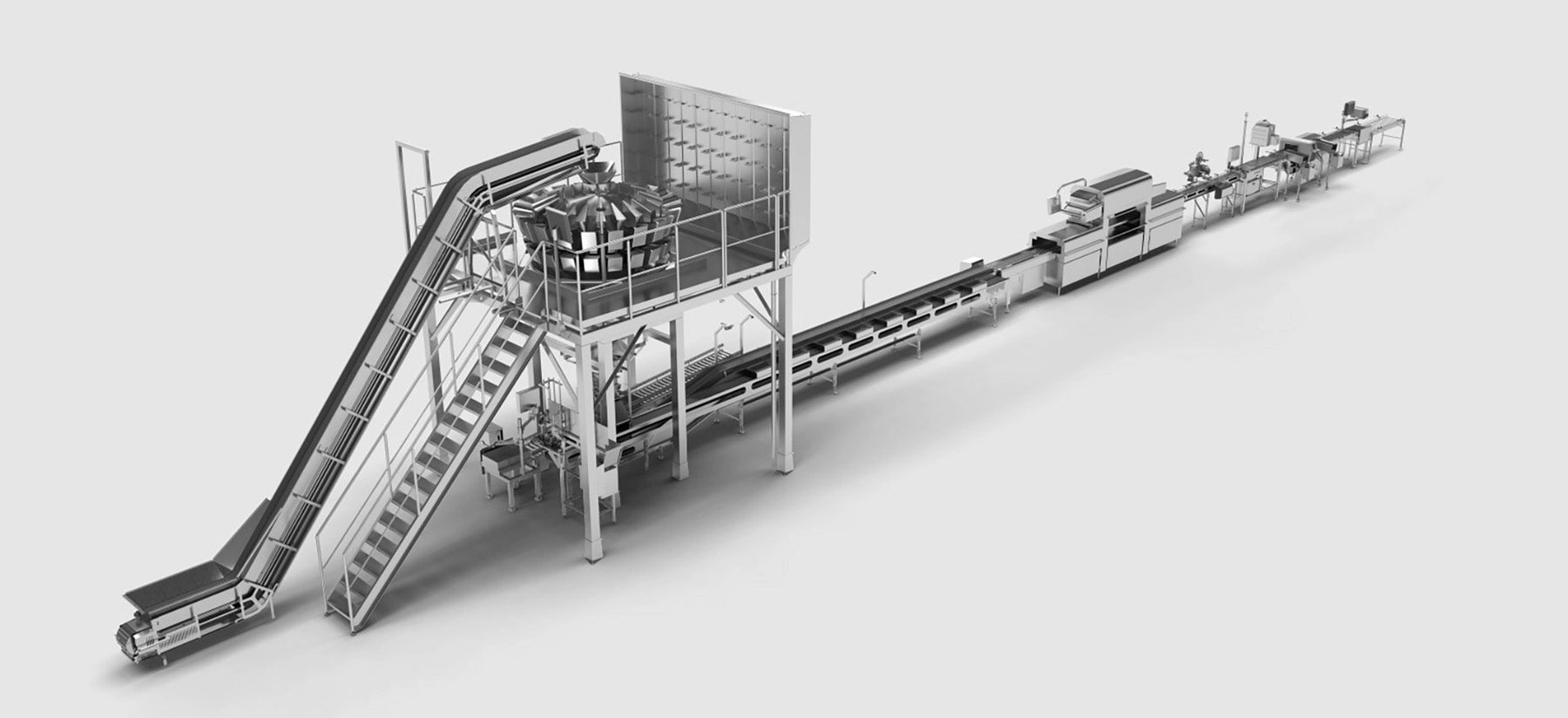 How can you benefit from our expertise?
Whatever your production line requirements, we have the expertise that can really make a difference to your overall efficiency and operating costs. Get in touch with us today to arrange a consultation with our expert team and let's explore the possibilities.
Get in touch
Full line solutions
We design and project manage the installation of bespoke machines across the full production line. Our network of partnerships has helped us to expand our range to offer automated full line solutions which are flexible enough to fit around your business needs and respond to a changing market.
Case Study

Automation vs. Human Labor: Finding the Right Recipe for Efficiency in Food Processing

In the dynamic landscape of the food processing industry, the debate between automation and manual labor has always been a critical consideration for...

Read the full Case Study