About Us
It was back in 1996 when we first introduced Traysealing to one of the leading premium supermarkets in the UK. Our owner Kevin Witheford engaged with the market in solving the problem of leaking overwrapped packs in the supermarkets along with extending shelf life and creating some truly innovative pack designs to enhance the look and feel of the top sealed trays we all know and use today.
Working with the owner of Sealpac GmbH, the development of machinery and new pack innovations transformed the market and traysealing quickly became the new standard for packing protein, ready meals and many other products in pre formed trays.
From the beginning Sealpac UK & Partners has developed in to a business that remains focused on 3 core strengths which underpin any successful business:
1.
Experienced and knowledgeable people
2.
The best quality machinery range
3.
Class leading after sales
Recognising the critical elements that create a truly efficient line solution, we've expanded the product range over the years to offer processing, weighing, depositing, packaging machine options, quality control and case packing.
Our first line solution project was back in 1997 when we were asked to weigh mixed and layered salads and deposit in to a tray.
Working with the customer we brought the concept to life including tray handling, weighing, depositing and sealing. Today our project team manages anything from a simple standalone machine up to a full line, taking complete ownership and working hand in hand with our customers to deliver sophisticated automated line solutions. All backed up by our class leading after sales team.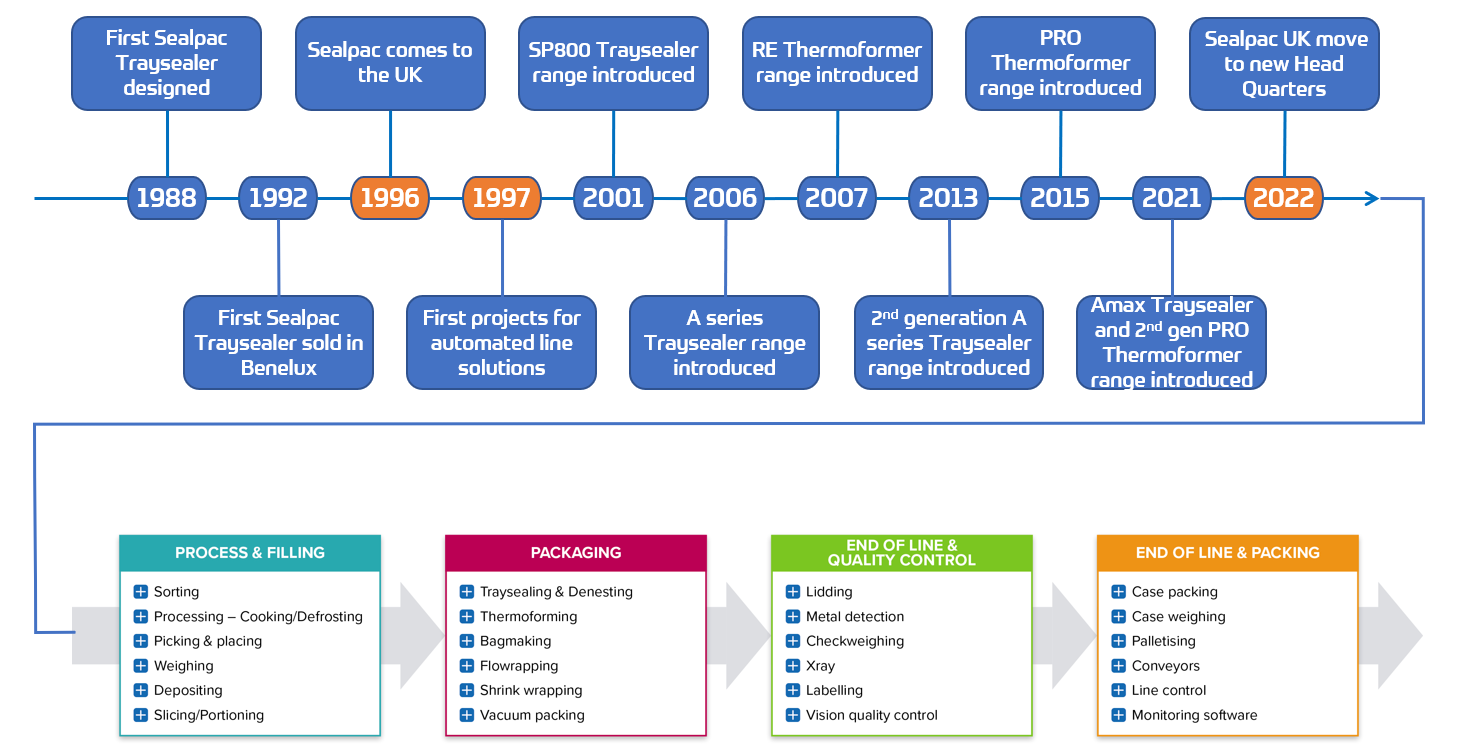 What we do
As well as providing cutting-edge food packaging machinery that is designed to adapt and grow with our customers' changing needs, our network of innovative and trusted partners complements our range with the very latest in weighing, processing, food inspection and QA technologies.
The result is that we help our customers to boost their success in three key areas – quality, speed and efficiency, and we back this up with world-class service, support and training.
Pre-Sales Consultancy
Our team use their industry expertise to ensure we understand your goals and work together to find the right solutions to meet your business objectives.
Requirements setting

Focus on circular economy

Bespoke design

Demonstrations

Site visits

Personalised quotes
Find out more
Full-Line Solutions
We design, deliver and project manage the installation of bespoke machines across the full production line, distributing world-class equipment to the UK from our exclusive partners.
Sorted by: Raytec Vision
(Optical & x-ray sorters)
Filled by: Cabinplant
(Multi-head weighers & screw-feeding)
Packaged by: SEALPAC
(Traysealers & thermoformers)
Checked by: FT Systems
(Automated end-of-line inspection)
After-Sales Support

Our support services and contracts help minimise downtime, keeping your line at optimum productivity.
Discounts on critical spares

Expert training (5/5 Google rating)

60% fewer engineer callouts through preventative maintenance

On-site troubleshooting

23% saving on annual labour costs

Emergency call-out teams
Find out more
What our customers say
"Good service, with pleasant helpful contractors."
"Top quality machines with good after service."
"I am very happy with the service, and spare parts delivery is always quick too!"
"Very professional service, parts are always available, with friendly engineers who know the machines very well."
Full-line solutions from Sealpac UK & Partners
We design and project manage the installation of bespoke machines across the full production line. Our network of partnerships has helped us to expand our range to offer automated full line solutions which are flexible enough to fit around your business needs and respond to a changing market.