In recent years, there has been an increased consumer demand for sustainable packaging. In response to this trend, SEALPAC have adapted their EasyLid® design to allow for optimal recycling capabilities.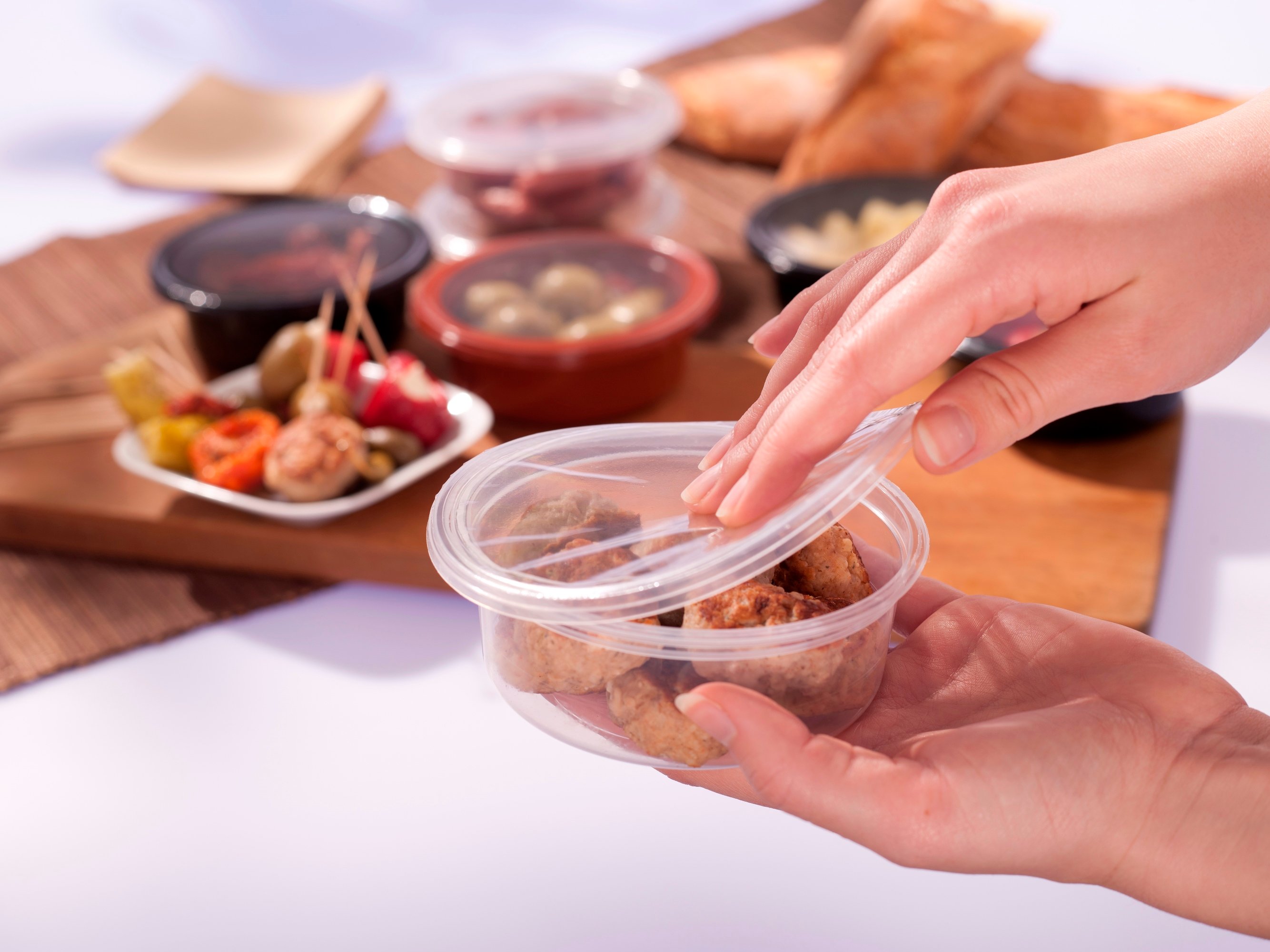 EasyLid® is a consumer-friendly packaging solution as it is designed to be resealable for customer convenience.
The EasyLid® design combines lidding and sealing in one simple step, with a reclosable snap-on lid functionality. EasyLid® is also identifiable by its additional perforated ring compared with the common sealing edge.
More recyclable packaging with a 100% polypropylene solution
The growing concern of sustainability is pushing food packaging suppliers to offer more recyclable alternatives. We're pleased to announce that the SEALPAC EasyLid® design is now available to purchase as a 100% polypropylene (PP) solution.
Since all materials used for the tray, top film, and in-mold label are produced from mono PP, this allows for optimal recycling capabilities. Using mono-materials in production makes the recycling process more efficient, as the process of collecting and sorting materials into relevant categories is simplified.
Recent consumer demands are in favour of more sustainable packaging, as consumers are now more likely to purchase products for its planet-friendly packaging. Presenting your product in the new EasyLid® mono-plastic design will help you to satisfy these new demands and even boost your sales at retail.
Investing in mono tray sealing is the way forward if we are to achieve the UK Government's commitment towards making all plastic packaging on the market either recyclable, compostable, or reusable by 2025.
Save with EasyLid®
Working towards a circular economy is an effective long-term solution as it not only reduces pressure on the environment, but also offers increased security of the supply of raw materials.
As well as helping the planet, by investing in the EasyLid® design you will also be saving significantly on packaging materials and weight, as well as transport and storage costs.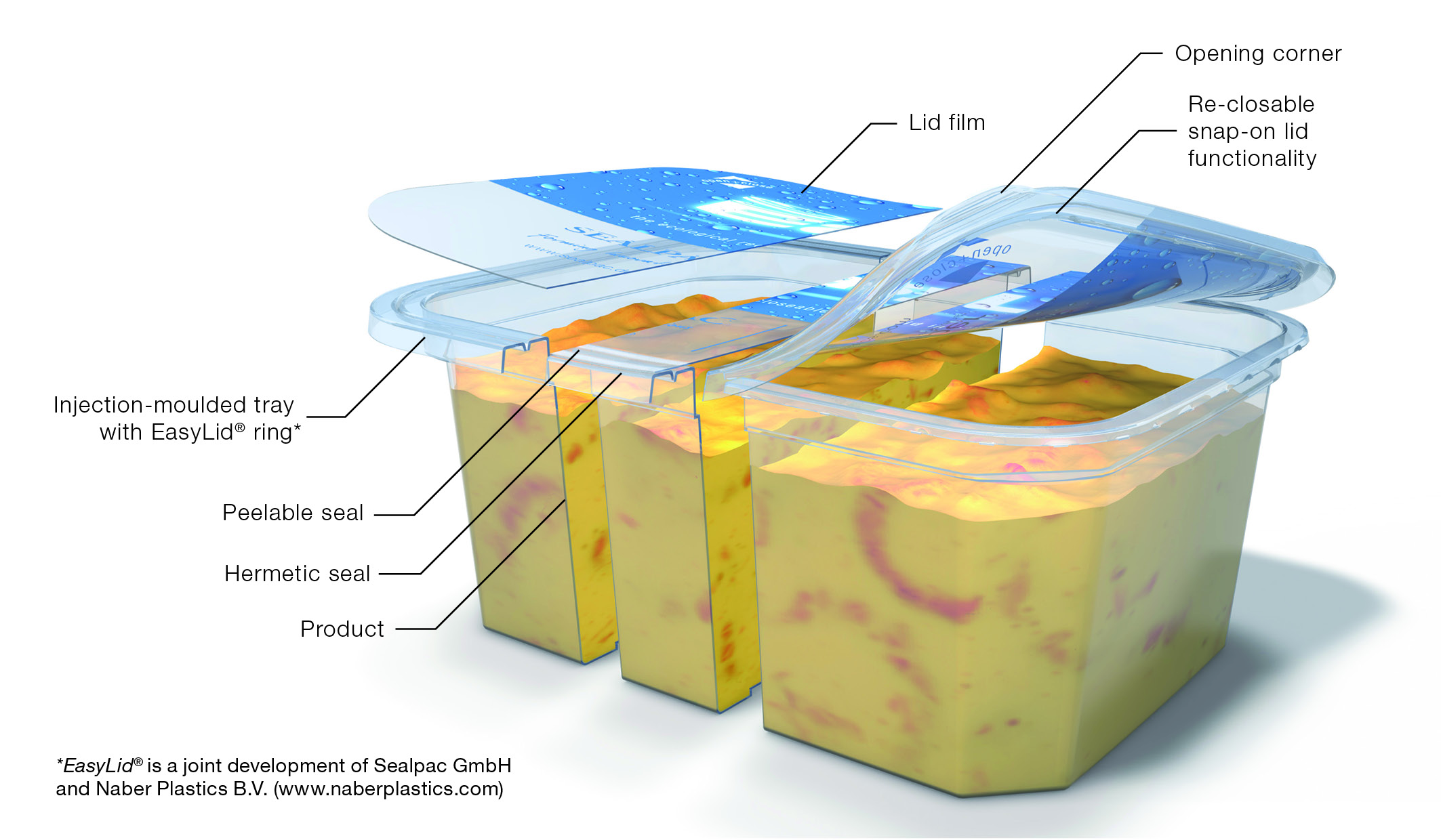 The EasyLid® design features a hermetic seal and full lid function in one complete, sealing process. There's no need for an additional lidding process, meaning you can also save on personnel.
Achieve optimal efficiency in your packaging process with EasyLid®. The EasyLid® solution runs on all of SEALPAC's fully automated A-series traysealers, with outputs of up to 160 packs per minute.
If you're already one of our valued customers, just a few minor adjustments to your A-series traysealer are all that's required to make the switch to EasyLid® packaging.
Versatile design
Like most of the packaging solutions we offer, the EasyLid® design is customisable to your design specifications, allowing you to market your brand effectively.
Trays made with EasyLid® are also suitable for in-mold labelling (IML), which enhances the design possibilities of your product and also provides and additional barrier.
EasyLid® packaging is suitable for both hot and cold filling, as well as modified atmosphere packaging (MAP). This makes it the ideal solution for a range of market areas. For example, EasyLid® packaging is great for antipasti, meat spreads, delicacies, salads, snacks, confectionery, and many other products.
No matter what your business sector, if you choose EasyLid®, you'll be investing in an innovative design with a clear sustainability message.
EasyLid® is a registered trademark of Sealpac GmbH and Naber Plastics B.V. Find out more about the EasyLid® design here.