However, the industry as a whole is facing a number of significant challenges at present. Although the impact of Brexit is still uncertain most experts agree that it's likely to have a significant effect on the UK production industry and the food production industry is no exception.
Aside from the fear of the impact of Brexit, this year's unprecedented heatwave also created immense pressure on the UK farming industry. Here we take a closer look at the main challenges affecting the UK food production industry today.
Challenge 1: Our Changing Climate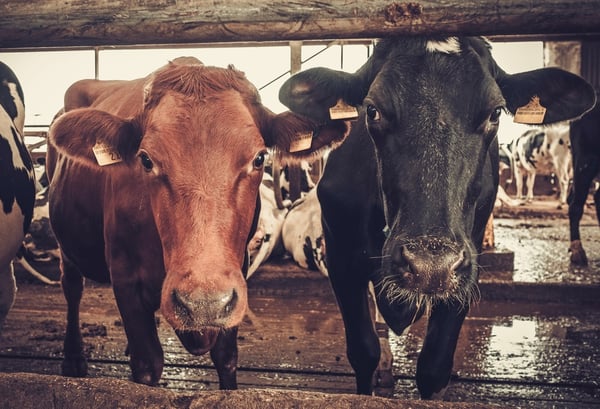 The impact of this year's heatwave (the second recorded highest in 30 years) following a wet spring is having both a long and short-term impact on the UK farming industry. The short-term effects have already been seen and for farmers the devastation is real. From meat and milk producers to salad, fruit and vegetable growers, all have said that their harvest and yields have been severely affected by some of the driest months since 1961.
This all began with the harsh weather (snow) in March – a bad grass-growing season which delayed the start of outdoor grazing, then continued with the unprecedented summer heatwave. As a result, livestock exhausted the available pasture early in the summer forcing farmers to feed cattle silage and hay which (depending on the number of cattle) was costing farmers hundreds of pounds per day.
After a tough summer, many livestock farmers were faced with the decision of either using winter stocks of feed to maintain their animals or take them to market much sooner than usual at a much lower weight and price.
Following a drought summit with the National Farmers' Union (NFU) held back in July, Environment Secretary Michael Gove promised the government would support farmers who had been affected by the dry weather saying,
"We will make sure farmers have what they need in order to provide us with high-quality food and ensure their businesses survive,"
But for many farmers this was a case of "too little, too late" as sending animals to slaughter early was seen as the best solution, despite getting a much lower price for the underweight animals.
If farmers go into winter short of feed and relying on expensive concentrates it will push up costs and could result in lower overall production of UK meat and milk. This could translate into meat being in shorter supply and prices rising.
Against this background it's therefore more important than ever for food packagers to have an intense focus on controlling costs. Retailers will be trying to minimise price rises to consumers, which inevitably means further pressures on their supply chains. Therefore, producers need to have a renewed focus on minimising waste in terms of protein and packaging, and minimising machine downtimes.
Challenge 2: Labour shortages
The combination of an ageing workforce, a growing population and the uncertainty of Brexit means labour shortages are a growing issue in the food production industry.
Whilst uncertainty and production have always gone hand in hand, the looming presence of Brexit adds to the unknowns. With politicians still thrashing out the final details, the impact of Brexit is impossible to predict and there is much uncertainty around how supply chains will have to evolve. We do know the production industry will have to change, even if we don't yet know to what extent.
To help allay growing fears of labour shortages within the farming industry, the Home Office and Defra recently announced a nationwide pilot to bring 2,500 non-EU migrant workers to UK farms.
The pilot due to start in Spring 2019 will run until December 2020 and it will enable fruit and vegetable farmers to employ migrant workers for seasonal work for up to six months. In the short term the hope is that this pilot will support farmers during peak production periods. The last SAWS (Seasonal Agriculture Workers Scheme) which was abolished in 2013 allowed 21,250 workers to enter the UK from Romania and Bulgaria before those countries became part of the EU.
Commenting on the pilot Defra Secretary Michael Gove said:
"We have listened to the powerful arguments from farmers about the need for seasonal labour to keep the horticulture industry productive and profitable. From lettuce in East Anglia to strawberries in Scotland, we want to make sure that farmers can continue to grow, sell and export more great British food."
This pilot will then be reviewed as the government looks at how best to support the longer-term needs of industry outside the European Union.
According to British Summer Fruits Chairman Nick Marston though, this pilot doesn't go far enough with the UK horticulture industry employing 60,000 seasonal staff from the EU every year. He claims that, "farms are reporting staff shortages of 10-20% already" and that's before the UK leaves the EU.
He says, "around 10,000 are needed now, not 2,500. This number will have little effect on the current shortages UK farms are facing as we speak, and will not sustain a standstill, let alone growth."
As well as tackling general labour shortages, another significant challenge is the lack of skilled workers. When it comes to dealing with this problem there are some potential steps manufacturers should consider.
The first and most obvious one is to upskill existing staff and offer training programmes and support to develop lower-skilled employees. After all, you can invest in the highest quality machinery on the market but unless your employees are sufficiently trained and confident in how to use it, your production levels will never reach their optimum level.
Good training is an investment and should be considered an integral part of your total quality management. Your workforce is one of the key variables in your overall Return on Investment (ROI) so it's important to bear this in mind and recognise the impact that a happy, engaged and motivated workforce can have on your bottom line. Investing in your employees by offering a CPD (Continuing Professional Development) programme is also a good idea.
Choosing an equipment supplier who offers access to training as part of their aftersales support process will ensure that you have a reliable and accurate training programme in place for anybody new joining the business. This will also help to ensure that your company stays aware of the latest updates.
Investing in people makes them feel valued and increases morale and motivation on the factory floor. It's widely accepted that employees who feel valued are less likely to look for a new job, so a little extra spending on training can also save you the costly process of having to recruit and train new employees.
Having a good relationship with local schools and colleges is also a good idea as this can give you the opportunity to promote your business to potential entry-level employees.
Challenge 3: Robotics, Automation and advances in Technology
As we continue the march towards the 4th industrial revolution, the use of robotics and advances in technology has become a part of daily life within most factory floors. This is hardly surprising as increasing automation within a factory environment can dramatically increase levels of speed and production. Advances in technology may also offer part of the solution to the problem of labour shortages. Some of the benefits this new technology offers can be almost impossible to replicate manually and can offer an excellent return on investment.
Vision system technology for example is now considered to be an essential part of many industrial processes as this can offer fast, accurate and reproducible inspection capabilities at a competitive cost, ensuring an excellent level of quality control safeguarding and preventing costly product recalls.
Staying aware of the latest developments can be both confusing and stressful not to mention expensive. That's why you need a true partnership with your technology suppliers to help you identify relevant technologies that can genuinely make a positive impact to your business.
As the level of technology increases within production environments so too does the threat from cyber-attacks. If hackers are able to access a company's IT networks and gain access to their software, they could potentially shut down an entire production line. Although this threat is very real, routinely updating software and educating employees about potential warning signs of being breached can help to prevent cyber-attacks.
Whichever industry you work in, there's no denying the pivotal role that automation, robotics and technology plays. However, whilst this may go some way to filling the labour gap, human employees are still required for their problem-solving abilities as well as an ability to analyse issues and manage output.
None of us can predict the future but to face the existing challenges of a changing climate, labour shortages and rapid advances in technology, companies need to take the same action they have always done to combat the other common industry challenges mentioned; plan carefully to mitigate the risk from all of these threats.