SHEFF: the new automated solution for labour shortages
Use Fields
Sachets in ready-to-eat salads, sachets and cups in ready meal kits, convenience foods, snacks, fresh produce, bakery products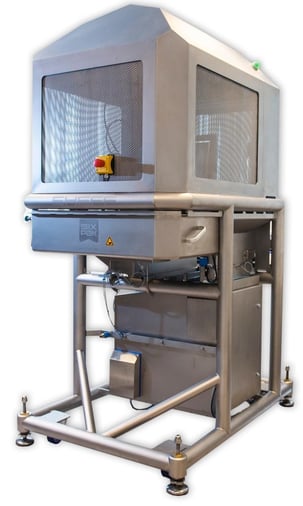 Sealpac UK & Partners are proud to be the exclusive UK & Ireland distributors of a new piece of automation which aims to increase packing efficiency and respond to concerns about labour shortages.
SHEFF uses smart camera recognition technology to view the production line in three dimensions, meaning it can accurately detect product placement in standard euro crates, with no pre-positioning required.
SHEFF provides a compact and cost effective solution to recent labour shortages. SHEFF's smart camera imaging technology detects where products are, and SHEFF then makes on-the-fly adjustments to accurately pick and place. SHEFF is revolutionary in its ability to adapt to changes during the production process and still maintain full efficiency.
SHEFF can be synchronised with various filling machines like flow packers, tray sealers, VFFS machine and index conveyors.
Features & Benefits
50 picks per minute

Compatible with chaotic arrangements of products

Depth perception along the X, Y, and Z axes

No pre-positioning required

Applications across a variety of sectors

Cost effective

Mobile and compact to fit over existing production lines

Hygienic design