This summer's unprecedented heatwave saw temperatures soaring to over 30 degrees so it's hardly surprising that people made the most of the warmer weather to dine alfresco, whether at a BBQ, picnic or a family day out at the beach. Whilst it's mostly just harmless fun, this huge increase in the number of us dining alfresco has unfortunately had a huge impact on the environment.
The headlines after the last May Bank Holiday weekend said it all with newspapers declaring; 'Bank Holiday sunseekers 'ruin' beauty spots across the country 'and 'Bank Holiday Carnage: Shocking pictures show Britain's beaches covered in litter'. It's hard to forget the endless images of empty beer cans, plastic bottles, crisp packets and even disposable barbecues left in parks, on beaches and at other beauty spots throughout the country.
In this blog we explore the packaging footprint of summer outdoor dining and the extent of the littering problem in the UK.
The price of litter
After the May Bank Holiday, the message from councils up and down the country was clear… 'take your litter home with you!' As well as the unwanted impact littering has on the environment and the threat it poses to wildlife and natural beauty spots, the other primary reason for this message is the simple fact that councils simply can't afford to clean it.
Hardly surprising considering Keep Britain Tidy estimates that the cost of cleaning up litter along with local authority street cleansing and fly-tipping removal is likely to be costing councils close to £1 billion per year.
As the Environment Minister Therese Coffey says,
"Littering is a scourge on our environment and we waste taxpayers' money cleaning it up – funds which could be better spent in the community. We want to be the first generation to leave our environment in a better state than we found it, and I encourage everyone to take responsibility for their litter and recycle more."
To try and combat the problem, in April this year, councils across England were given the power to raise fines for dropping litter from £80 to £150. The latest study by Keep Britain Tidy, 'Litter in England – The Local Environmental Quality Survey of England 2017/18' revealed that there's still a long way to go until we start to see a change.
The study revealed the top ten most littered items across sites in the UK and the worrying news for the packaging industry is that after cigarette butts, the three most littered items are all pieces of food-to-go packaging.
Cold beverages fuelling the plastic crisis
As the temperatures soar outside so too does the consumer spend on soft drinks. That means a huge increase in the amount of drinks consumed 'on the go' and as a result an increase in the amount of litter caused by perhaps the worst offender in the food-to-go packaging world, plastic bottles. In the latest study by Keep Britain Tidy, soft drink bottles and cans were found at a whopping 52% of sites surveyed which is not good news for soft drink manufacturers who are desperately trying to limit the impact of their products on the environment.
Given the fact that 99% of local authorities in the UK are now collecting plastic bottles , one of the primary things to take into account here is that the bottles and cans of soft drink found in the survey were consumed on the go. This shows the reluctance of a high proportion of consumers to take products home to recycle them after consumption, regardless of any on-pack recycling messaging.
Statistics like this certainly fuel the debate/need for a Deposit Return Scheme within the UK. Particularly within the food-to-go packaging sector, a deposit-return scheme could not only help to limit the amount of waste sent to landfill but could also help to reduce the amount of litter left in our environment. However, although similar schemes are already being used in several other European countries, until such a scheme is trialled in the UK, it's impossible to know how much of an impact this would have on the reduction of litter.
Picnics polluting the environment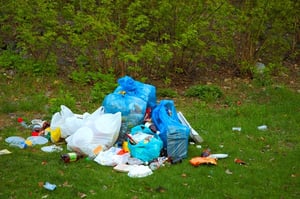 As soon as the sun comes out there's nothing most people enjoy more than a good picnic or barbecue, but how many items in a picnic hamper can be recycled and do consumers know which ones can and which can't? More importantly do you? Here's a useful guide to the most recyclable pieces of picnic packaging and the worst offenders.
Crisps packets
An essential part of every picnic are the savoury snacks, whether standard crisps, tortilla chips or something a little more adventurous is the order of the day. Unfortunately, delicious though they are, once the savoury snack has been consumed, the majority of crisp packets are not currently recyclable in the UK.
Despite the inside of most crisp packets resembling foil, this tends to be a metallised plastic film which is not currently recyclable. With a recent Mintel report into consumer snacking trends claiming that crisps are regularly eaten by 90% of adults and consumers crunch their way through 6 Billion packets of crisps per year, the impact of these unrecycled packets is huge.
As the UK's biggest crisp brand, Walkers has recently found itself in the firing line for producing more than 7,000 non-recyclable crisps packets every minute, despite a pledge to make its crisp packets 100% recyclable, compostable or biodegradable by 2025. A petition calling on Walkers and other manufacturers to stop using plastic packaging in its crisps packets has recently been signed by over 270,000 people in a bid for changes to be made sooner.
Consumers can easily check whether the inside of a crisp packet is foil or metallised plastic film by simply scrunching up the packet in their hand. If the packet remains scrunched, then it's probably foil and can be recycled but if it springs back then it's more likely to be metallised plastic film so needs to go straight into the bin.
Sandwich and salad boxes
Currently most sandwich boxes are not recycled in the UK because they are usually contaminated by food waste, but this isn't the only reason. Separately, plastic and card are easy to recycle but as most sandwich boxes are usually made of card with a plastic window, the combination of materials means the card contaminates the plastics recycling and the plastic contaminates the card recycling. This is why the majority of sandwich boxes sadly end up going to landfill or incineration. In a bid to change this, last year Waitrose launched easier to recycle sandwich packs with an easy-peel plastic film making it easier for consumers to separate the plastic film from the cardboard, so the cardboard element can be recycled. Companies such as Vegware and Enviropack also sell fully compostable sandwich boxes which are now being used by an increasing number of high street chains.
Sumptuous summer salads are a healthy and refreshing side for any picnic or summer get-together and as we all know most plastic pots, tubs and trays containing salads are usually fully recyclable as long as consumers give them a good rinse first to ensure any food waste has been removed.
Dips
Not only do they help to add a bit of extra flavour to a picnic but whether in glass pots (think spicy salsa) or plastic pots (like hummus), with a quick wash, most dip pots are also recyclable. However, this does mean a conscious effort by the consumer to take all of their recyclable picnic packaging home with them, so it can be rinsed and put into the correct recycling bin.
Strawberries and Cream
For tennis fans Wimbledon wouldn't be the same without strawberries and cream, with a staggering 28,000kg of strawberries (equivalent to 112,000 punnets) and more than 10,000 litres of cream normally consumed during the fortnight of Wimbledon. Luckily these strawberry punnets can be and are recycled every year. Whether single or double cream is the indulgence of choice, with a thorough rinse, the plastic cream pots can also be recycled making them a sustainable choice for consumers.
Barbeques- say 'no' to disposables
As soon as the sun comes out thoughts turn to sizzling sausages and juicy burgers but before dashing out to buy a disposable BBQ, consumers must consider the long-term impact these can have on the environment. Disposable barbecues burn the ground, cannot be recycled or composted and are extremely un-environmentally-friendly, and with sales of them on the rise, the impact of this shouldn't be ignored.
Disposable barbecues don't just pose a waste problem, they are made using a range of unsustainable materials including charcoal. Many charcoal products are often sourced from tropical forests in South Africa and South America and large areas of forest containing trees up to 100 years old are burnt down to produce charcoal.
To reduce the harmful impact of a BBQ, consumers should try to buy charcoal produced in the UK. If this is not possible they should always check that the charcoal they buy is certified by the Forest Stewardship Council (FSC). This is why clear product labelling of all types of packaging is so important. Not only are these fuelled by coal, they're also smothered in single-use plastic, effectively a double whammy when it comes to pollution!
Since the last Keep Britain Tidy survey was carried out in 2014/15, the problem of littering seems to have become substantially worse with 4% more sites now failing nationally to meet an acceptable standard for litter. Whilst there is clearly more work to be done to make more food-to-go packaging recyclable the decision of where current recyclable products end up is largely down to the education, attitudes and actions of consumers themselves, although clear packaging does play an essential role in this process.
We are a nation that consumes on the go and the extra packaging is a bi-product of that. Whilst national schemes, incentives and the threat of on the spot fines may go some way to solving the litter problem, ultimately, it's the responsibility of the consumer to dispose of any packaging appropriately by recycling it or putting it into the bin.