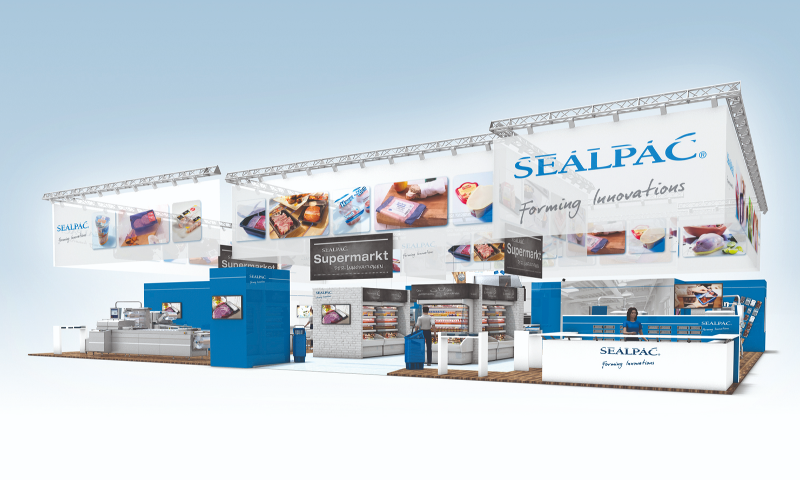 Sustainability and plastic reduction are hot topics for the packaging industry and present many challenges, especially for the meat sector. For most products, including steaks, there is still no suitable alternative to plastic that can fulfil all the requirements - such as product safety, hygiene, convenience and communications.
SEALPAC is a world leader in high-quality tray-sealing and thermoforming technology, as well as a pioneer in the area of innovative packaging concepts. At IFFA 2019, SEALPAC will present several resource-saving systems, primarily based on cardboard, for common applications in skin and modified atmosphere packaging (MAP).
FlatSkin®: vacuum skin packaging that requires up to 75% less plastic
SEALPAC's FlatSkin® packaging system, is a vacuum skin packaging that requires up to 75% less plastic. In just a short period of time, the sustainable packaging solution has proven to be a bestseller that can now be found in ten different countries.
The FlatSkin® system provides an attractive presentation of high-quality meat products. A highly transparent barrier skin film fixates the product directly onto the flat cardboard carrier made of bleached or unbleached fibre, which has been coated with a polymeric protective layer. This layer provides stability to the cardboard and forms a reliable barrier against grease, moisture and oxygen.
The cardboard carrier can be printed on both sides and offers plenty of space for product information and branding. FlatSkin® also convinces in terms of sustainability, as it reduces the amount of plastic by up to 75% compared to conventional skin packaging. Furthermore, it enhances recyclability, as after taking out the product, the thin polymeric layer is easily removed from the cardboard, allowing for separate disposal.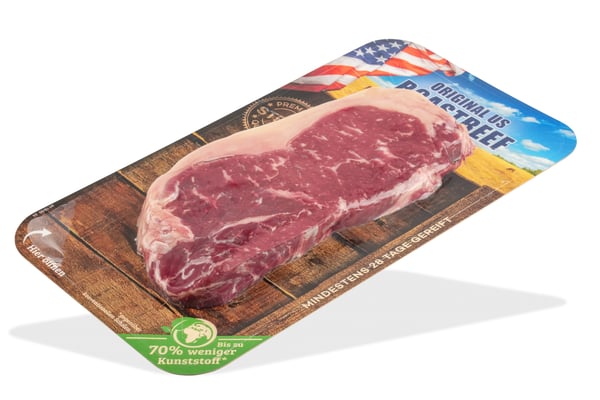 A world premiere: MAP solution that reduces plastic by up to 40%
Fresh out of R&D: eTray® celebrates its premiere at IFFA 2019. This brand new packaging system will make a difference in the segment of modified atmosphere packaging. The highquality cardboard base, which can be fully printed on the inside and outside, hence allowing for attractive designs and offering plenty of space for communication, has a plastic inner layer that purely provides the sealing and barrier function.
eTray® is supplied as a pre-fabricated tray. Owing to a highly stable sealing edge, the tray is reliably sealed under MAP to ensure the safest packaging process. It is suitable for denesting and allows for smooth transport across the packaging line. Compared to common trays in the market, up to 40% less plastic will be used, depending on shape and size.
The eTray® system offers fresh products, such as minced meat, goulash, seafood, poultry and convenience meals, optimal protection whilst ensuring an eyecatching appearance at retail. After use, the cardboard carrier and plastic inlay are easily separated to allow for sustainable disposal and recycling. We will demonstrate the eTray® packaging system live on our SEALPAC A6 traysealer with low-maintenance and energy-efficient servo drive.
SEALPAC PRO14 thermoformer: paper-based packaging
Also within its thermoformer range, SEALPAC is able to offer a particularly sustainable packaging solution. Trade show visitors will be able to experience live how the all-in-one SEALPAC PRO14 thermoformer produces packaging for sliced meat products with paper-based bottom and top film. In addition, this high-class packaging machine is capable of handling various other applications - from cost-efficient flexible film vacuum packaging up to high-quality skin packaging. The PRO14 runs at up to 10 cycles per minute and is particularly energy saving owing to its short vacuum and ventilation times.
This thermoformer also proves to be quite economical in its use of materials. The PRO14 is capable of processing up to 10% thinner film without loss of pack quality. Thanks to numerous other features, the production of thermoformed packs on the SEALPAC PRO14 will always be at optimal speed, accuracy and efficiency.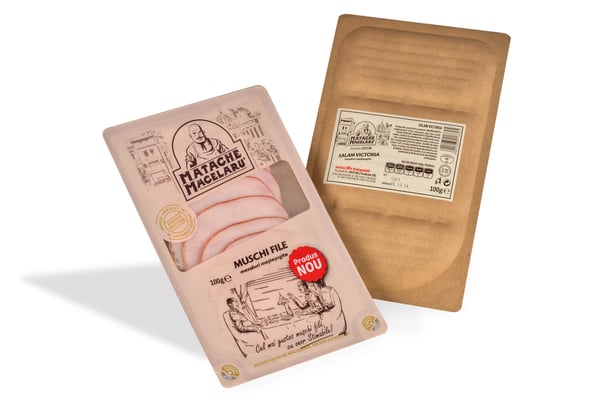 Be inspired
SEALPAC's large 'Supermarket of Innovations' will once again be at the very heart of its 500 m² stand during IFFA 2019. Here, visitors can discover new and exclusive packaging innovations from all over the world. If you want to taste excellent food that can be prepared with modern packaging, make sure to head to SEALPAC's Live Cooking area. Whether it concerns microwavable delicacies with an innovative steam film, or pulled chicken in ovenable thermoformer packaging that ensures tender meat, it is the perfect place to convince yourself of the benefits of present-day convenience solutions.
SEALPAC will be attending IFFA 2019 in Frankfurt, from 4 - 9 May, in Hall 11.0, Stand D11
---
---
If you'd like to know more, or have
an efficiency or delivery challenge you'd like to discuss, you can contact us
on
0845 302 3056.