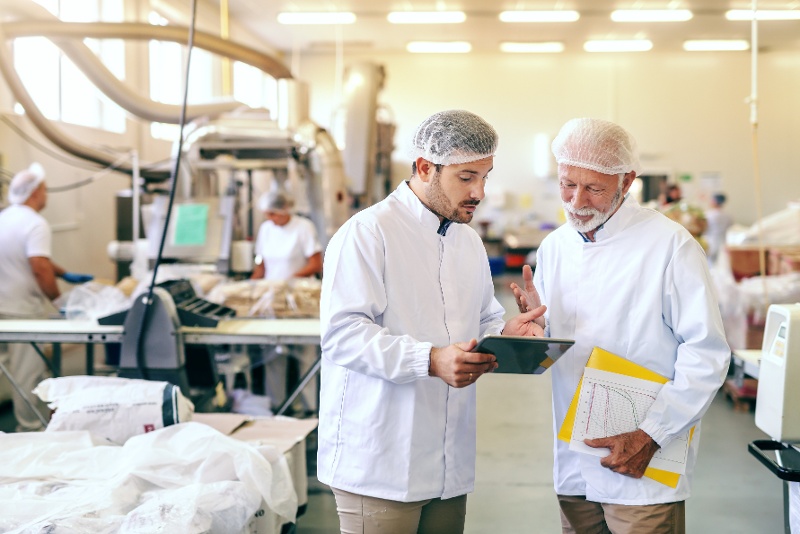 The innovative partnerships boosting our customers' success
At SEALPAC UK, as well as providing cutting-edge packaging machinery that is designed to adapt and grow with our customer's changing needs, we also complement our range with the very latest in processing and quality control technologies.
From inspection to loading and skewering, we have partnerships with a select group of innovative companies, who are all leaders in their fields. The result being that we support our customers to boost their success in three key areas – quality, speed and efficiency.
Here is a guide to our partners and the solutions they provide. For more information, please call our friendly team on 0845 302 3056.
Jump to:
Meet our partners
Cabinplant

– weighing and packaging solutions
Speed, flexibility and accuracy for the production line. Process fragile, sticky and wet products at speed and with a higher weighing accuracy, reducing give-away costs
Cabinplant is a world leader in the development of processing technology, especially in the fields of processing and weighing/packing and in the handling of complex raw materials.
Cabinplant are the inventors of the screw-feeding principle which has meant the meat, poultry, seafood, vegetable, confectionery and ready meal industries can achieve higher weighing accuracy – and reduce give-away costs considerably.
The customised weighing, filling and packing solutions provide accurate portion weighing, which results in increased capacity, reduced giveaway, and significantly increased yields.
The large capacity packing line for fresh meat and poultry has been designed for a continuous and automated production flow. It can handle both few-piece and large portions. Three different types of packing methods can be handled on the same line:
Stationary portion packing in tray
Side-by-side packing on the fly
Direct filling in tray
The fully automatic multibatcher performs accurate high-speed weighing and handles portion sizes of up to 30 kg of meat or meat by-products. The accurate weighing of batches reduces give-away significantly compared to other systems and improves return on investment.
Raytec Vision

– sorting and inspection systems using vision and x-ray
Offering advanced efficiency and precision, while supporting manufacturers to meet health and quality standards
Raytec Vision is a leading expert in optical sorting technology for fruit and vegetables. A wide range of quality control solutions are available, for key products including leaf salad and tubers such as potatoes. These capabilities also extend to other sectors such as meat, poultry, seafood and confectionery.
Raynbow is an optical sorting machine with high resolution sensors. It examines the product using a high-speed double vision system that analyses 100% of the surface of each product.
It can be used to check fruit and vegetables, disposing of any colour defects, marked produce and foreign bodies (even if the same colour as the product).
Spray is an optical sorting machine with high resolution cameras to examine the product on the conveyor belt. The system can be used with whole or cut fruit and vegetables.
Check out this leaf sorting video and potato sorting video to see the impressive systems in action.
Additionally, Raybox and Rayview provide the ability to provide x-ray inspection of cans and glass jars – allowing the detection of a wide range of contaminants, such as metals, unwanted bones, stone, glass and certain types of plastic.
Sleegers Technique

- high-tech slicing, interleaving and modular production lines
Automation to help standardise the production line and maximise yield and OEE, while future-proofing against labour shortages and ongoing economic uncertainty
Sleegers Technique, based in Holland, is a leading international supplier of automated solutions. With customers across the world, the company's range helps manufacturers to increase the speed of the production line, achieve greater accuracy, reduce waste and alleviate the growing labour shortage.
From slicing to interleaving and underleaving, weighing, stacking and loading, the company has extensive experience in working with the full spectrum of food products. This includes fish, fresh meat, cooked and cured meat, bread, cakes and cheese, as well as ready meals.
As well as the core product range, for manufacturers with a particular problem that needs solving, Sleegers' experienced team will work closely with them to create a bespoke solution, putting their superior engineer expertise to full use.
Check out these videos to see the technology in action.
Singer & Sohn

– conveyor and loading systems
Flexible solutions for enhancing the speed, accuracy and efficiency of the production line, with a high filling capacity and reduction in auxiliary times and waste
Singer & Sohn GmbH has more than 30 years' experience in the fields of conveyor technology and stainless steel machinery for the food industry.
The Singer & Sohn loading system has been developed to deposit various products into packaging. It can take a chaotic feed and automatically line up the products into uniform stacks as required. For example, sausages can be singularized, then grouped in a pre-set quantity and deposited into the packaging machine at the end.
The high performance grouping & depositing system can handle 250 sausages per minute into trays. The rotary device takes over the sausages from the transfer belt and passes them to the trays according to a pre-set quantity. Sausages which are too long are detected by the sensors and run through the system, without being deposited in the trays.
All Singer & Sohn systems meet the highest requirements in cleaning and hygiene and are optimally designed for wet cleaning.
Check out this video too.
MiVEG
– skewering
Expert skewering technology is an innovation that can help customers diversify and grab market share
MiVEG provides efficient skewering technology for kebabs, cheeses and fruit – providing you with labour-saving opportunities as well as repeatable quality. Their innovative machines bring unrivalled flexibility and consistency that support customers diversify and grab additional market share.
The machines are fast and reliable, processing wooden skewers to different products, including fruit skewers, vegetables skewers, cheese skewers or meat skewers.
The company is focused on developing innovative machines that consistently offer flexible and effective solutions to the food industry. As a socially responsible company, MiVEG has also gained FSC® certification for its beech wood skewers.
ELS
– coding and labelling systems
Optimise the labelling process with pinpoint accuracy and flexible solutions that are quick to convert
For more than two decades, ELS has been producing labelling machines and coding and printing systems, with the sole aim of optimising the labelling process.
The range comprises manual labelling systems and electric labellers for the simple application of self-adhesive labels, as well as compact semi-automatic machines for more automated labelling.
Automatic labellers with transport conveyors enable products to be labelled from several sides. ELS also offers the wrap-around labeller specially for the labelling of cylindrical products. For those labels with a particularly large amount of information such as ingredients and product descriptions, they provide thermal/thermal transfer printing systems, which can for example be installed on cross web labellers.
From coding systems for the printing of use by dates, to the development of special machines designed to individual specifications, ELS is leading the way in labelling.
Viewtech
– high speed inspection for quality control
Stringent quality control checks, offering fast and accurate results that are impossible to achieve manually, ensuring customer safety and avoiding costly product recalls
Viewtech systems perform repeatable and certifiable controls and can easily be integrated with most management systems, storing images, statistics and data on every product checked.
Viewtech offers up to 40 simultaneous quality checks on every pack, automating quality control and checking each aspect of packaging, from labels to seal integrity, at speeds humans are unable to match. ViewTech can also make informed decisions about quality control. Based on pre-stored visual data derived from product labels, it decides what is the relevant action to take if an anomaly is found. It has the capability to check up to 240 packs per minute, ensuring that all labels are 100% accurate.
Viewtech 's intelligent visual inspection system checks everything from ensuring that the branding is accurate to sense-checking the product price, display and use-by dates and product weight. Product quality and seal integrity is checked as well as the fat content in each product. The presence of any foreign objects will also be flagged up, preventing product contamination, greatly increasing customer safety. It will also check the product quantity, such as the number of meatballs in a pack, and pick up any variations in colour or texture, highlighting product quality issues.
Pulsotronic
- Quality Control and Smart Handling Solutions
Robust QC and smart handling solutions from a single source
Pulsotronic is a leader in the field of inspection and quality control for processing and packaging products along with smart handling systems. Every aspect of Pulsotronic machines is developed by an inhouse design and manufacturing team, with the latest software, ensuring right-first-time systems and first class support.

Based in their impressive facility in Niederdorf, Germany, the comprehensive range offers established and trusted solutions in metal detection, checkweighers, optical inspection systems, and the latest in software for central control and reporting, providing clients with optimal resources for guaranteed product quality.

Pulsotronic have developed "Best Practice" handling systems including specialist conveyors, stacking systems and automated loading to provide optimum speed and efficiency with full line control taking your products through the packing line with a single solution from one supplier.
---
For more information about these partnerships and how the innovative solutions on offer are helping our customers to boost their bottom line, call us on 0845 302 3056.