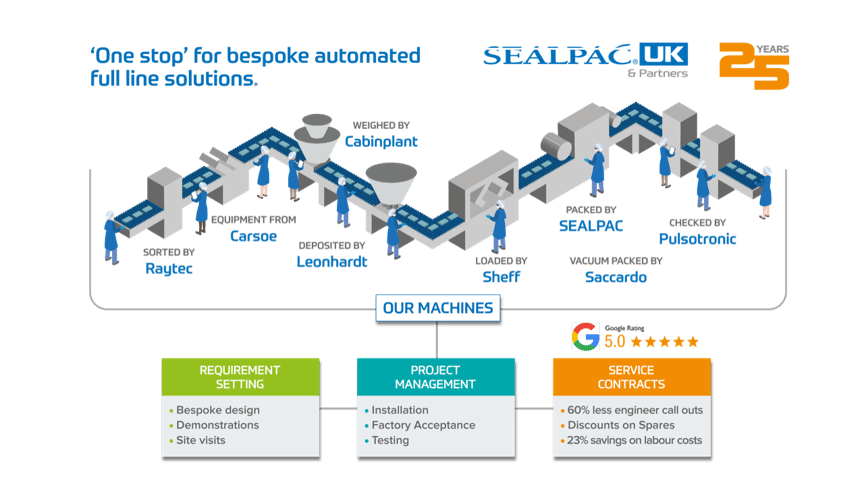 At Sealpac UK you get the full package. We provide comprehensive end-to-end solutions for manufacturers, which are designed to optimise efficiency, minimise waste and maximise results.
From expert consultancy that ensures the perfect solution is provided for each individual customer's needs; through to proactive maintenance and quick response times that enhance performance and reduce downtime; as well as our comprehensive ongoing training and support services.
Plus, thanks to the relationships we hold with our specialist technology partners, we've got all your weighing, packaging and inspection needs covered.
Here's a quick snapshot of how we provide full production line capability, and why not take a peek at this handy infographic, which explains at a glance the full capabilities of Sealpac UK & Partners and what we have to offer.
Wrap around solutions tailored to your needs.
At Sealpac UK & Partners, we pride ourselves on offering a highly personal service coupled with exceptional technical knowledge. We offer site visits and surveys, so we can understand your business needs and tailor solutions exactly to your requirements.
The gold standard of packaging equipment.
SEALPAC are market leaders in the design, manufacture and supply of the most advanced range of traysealers and thermoformers available in the UK today. With a range of high speed, flexible options to suit any product line, SEALPAC machines can be configured to package food products using MAP, Best Fresh, Rapid Air, Shrink, Soft Vacuum and many more.
Supporting highly efficient and reliable production lines.
Of course, we offer breakdown support along with the standard support services you would expect. But the main focus of our aftersales support is on proactively teaming our technical expertise with yours. We can help you optimise performance, maximise efficiency and minimise downtime to reduce your overall cost of ownership.
Ensuring you have trained and experienced team members.
Our comprehensive training and support package means your business can run at its optimal efficiency, with highly-trained staff getting the best from machinery you can rely on.
At the forefront of packaging innovation and sustainability.
We're committed to helping reduce unnecessary packaging within the industry. This has resulted in both new packaging innovations and a move towards more environmentally-friendly processes, such as our innovative FlatSkin® range.
The very latest in processing and quality control technologies.
Working with our trusted partners, we offer a host of top class production line technologies, ranging from processing to inspection. This means we can provide flexible solutions to help our customers increase performance and meet ever changing, ever increasing demands. These technologies include solutions for weighing, filling, food inspection, packaging, and end of line inspection.
For more information about our wrap-around solutions and how we are helping our customers to boost their bottom line, call us on 0845 302 3056.