At SEALPAC UK we are committed to helping to reduce the amount of unnecessary plastic within the packaging industry as well as being passionate about driving the optimisation of packaging technology forward by opening up new opportunities to the industry. This was the driving force behind the development of our latest piece of packaging innovation - FlatSkin®, a sustainable solution, which uses 75% less plastic than standard food packaging whilst also ensuring that the product remains in its optimum condition.
Thanks to the great sustainability story of FlatSkin®, (which you can find out more about on our website), this innovative, yet practical packaging solution has already generated a high level of interest from our existing customers as well as in the wider packaging world.
However, the 75% reduction of plastic used within FlatSkin® is just part of the story. In this blog we explore the growing popularity of vacuum/skin packaging within the packaging industry and the additional benefits of our own skin packaging innovation FlatSkin®.
The rising popularity of skin packaging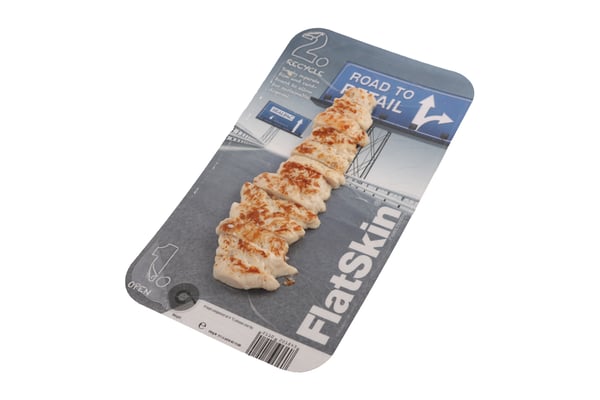 These days, more skin packs than ever before are starting to appear on retail shelves around the world and this shift towards the use of vacuum/skin packaging in its various forms has now started to become more sought after in the UK packaging industry.
SEALPAC's Trayskin® system for example offers a skin packaging solution that's ideal for those products that require a vacuumed barrier film to create a tight, atmosphere-free environment. This is perfect for packaging meat, ready meals and fish but also (as the industry is now starting to realise) for packaging poultry.
Poultry packaging must meet the highest possible hygiene standards at all stages of its journey from the factory floor, to the supermarket floor, to the customers home. This is essential due to the sensitivity of the poultry meat and the need to prevent nasty, harmful bugs from forming. Because 100% product protection is so vital when it comes to packaging poultry, there are a variety of strict guidelines that must be met around all stages of processing and handling poultry and vacuum packaging can make this process easier.
In a skin packaging system, poultry products are hermetically sealed inside a pre-formed tray with a highly transparent barrier film that fits the contours of the product like a second skin, hence the term 'skin technology'. This contoured fit, provides stability to the product making it ideal for poultry in all its forms. Marinated products in particular are ideally suited to this kind of packaging because the taught skin film allows the product to fully develop in flavour, improving the taste for the customer.
The introduction of new materials on the market have also now made it possible for skin solutions to be developed that are suitable for both ovens and microwaves. The key difference here is that the poultry skin is packaged in a heat-resistant tray that can be removed straight from the refrigerator or freezer and placed directly into an oven or microwave. A gentle cooking process then takes place thanks to the internal pressure inside the vacuum.
Not every skin packaging system is the same and although vacuum packaging technology has now been used across the industry for a number of years there are few providers that have focused on research and development in this area enough to develop reliable packaging solutions. Especially when it comes to developing packaging solutions that are also efficient and cost-effective from a production and logistics perspective.
When it comes to the use of paper-based skin packaging, the FlatSkin® system is currently the only product of its kind that's available on the market now!
FlatSkin®
While many competitors may talk about ground-breaking new concepts, SEALPAC UK are currently the only manufacturer with a proven and exclusive product that's already on the shelves in Europe.
Our innovative yet practical paper-based skin packaging solution is a clear demonstration of our commitment to reducing the amount of non-recyclable and non-reusable packaging within our packaging solutions. Due to the way the new FlatSkin® system has been developed though, it offers so much more than increased sustainability.
A primary concern for us was to ensure that when the amount of plastic was reduced, the product safety and quality wouldn't be compromised. We also wanted to make sure that any products using the FlatSkin® method wouldn't interfere with convenient product-handling for customers, which we are pleased to stay it definitely doesn't.
Vacuum-sealed packs such as the FlatSkin® solution offer a number of additional benefits to everyone in the industry; from manufacturers, to retailers and consumers.
Additional benefits
Maximum Flexibility
FlatSkin is able to run on existing SEALPAC A machines. Once a machine is FlatSkin enabled you can run all existing or new pack formats, (MAP, standard skin etc) and a tooling change can be completed by an operator in less than 10 minutes. That means you can stay up to date with the latest innovations while maintaining maximum machine flexibility.
Improved shelf-life and product quality
Securely sealed under a deep vacuum, food products have a significantly longer shelf life. This is because the transparent barrier film provides a reliable barrier against grease, moisture and oxygen, all of which can lead to products becoming spoiled.
In the FlatSkin® system, a highly transparent barrier skin film fixes the product directly onto the flat cardboard carrier, which has been coated with a polymeric protective layer. This polymetric layer adds even more product protection. This process significantly extends the shelf-life of any product packaged using FlatSkin® by helping to preserve the quality of the product. It also prevents any chance of leaks or spills during transit.
Beneficial Branding opportunities
Unlike common plastic skin trays, the FlatSkin® system uses cardboard carriers that allow for double-sided printing. Flatskin's cardboard carriers made from bleached or unbleached fibre with either FSC (Forest Stewardship Council) or PEFC (Programme for the Endorsement of Forest) Certification, can be printed on both sides using low-migration printing inks and varnishes. This not only offers optimal space for product information, it also creates unique branding opportunities which can really help your products stand out from those of your competitors.
FlatSkin® packs are also perfectly suited to vertical presentation in chilled cabinets (e.g. hanging or standing), making them true eye-catchers at retail. In addition, the tight-fitting skin film provides an attractive 3D effect that highlights the content to the fullest.
Seafood processor Vega Salmon A/S in Denmark has become an early adopter of the FlatSkin® packaging system for its hot-smoked salmon products, which it supplies under different brand names to various retailers. The products are manufactured on a SEALPAC A10 traysealer with 8-impression tooling for cardboard carriers measuring 260 x 130 mm. Each carrier has a double-sided print and hanger hole, which, combined with SEALPAC's unique OnTrayCut system, allow for an attractive vertical presentation at retail.
If you want to find out more about our FlatSkin® system or any other of our vacuum packaging solutions, then get in touch or visit the website for further information.