Fruit and vegetables need to be handled and packaged differently to ensure they stay at optimal freshness. At Sealpac UK & Partners, we're proud of our ability to provide bespoke solutions tailored to each client and their sector.
We offer a range of automated solutions suitable for both fresh and frozen produce:
Optical sorting by Raytec
We've partnered with Raytec, who produce industry-leading optical sorting technology for the food industry. Raytec's range of sorting and inspection equipment were designed with produce in mind.
Discovery uses visible colour and chlorophyll analysis to detect underripe product and foreign bodies.
Dryce is great for sorting both dried and frozen produce with a high production capacity.
Raynbow has a high production capacity with up to 100% labour savings.
Spray supplies chlorophyll analysis to allow deep and accurate detection of defects and foreign bodies in high-chlorophyll produce.
Raytec's machines are each equipped with a range of analysis functions, which allow for fast, accurate detection and separation of underripe, bruised, misshapen or tainted produce. Ejection can be just a single grading system, or in 3Way mode, which can differentiate between pure waste and second grade produce.
Automated pick and place robotics
Automation is fast becoming an integral part of today's production lines, as the amount of available labour is shrinking. We've recently become the UK & Ireland distributors of SHEFF – a brand new automated pick and place tool with an intelligent vision system which can detect product placement prior to pick up. SHEFF is suitable for a wide range of applications, but is well suited to the handling of produce and salad ingredients.
For example, SHEFF can carefully place forks, sauce sachets, or individual salad ingredients into each bowl, and easily exceed the efficiency of a manual production line. Recent advancements in robotics have included the development of soft gripping heads, which means that delicate produce can be moved without damage or bruising.
e-MAP for salads
Freshness is extremely important for the salad sector. That's why SEALPAC's e-MAP (equilibrium modified atmosphere packaging) is designed to keep oxygen levels at an optimum of 2-6% to ensure salad stays crisp and full of flavour.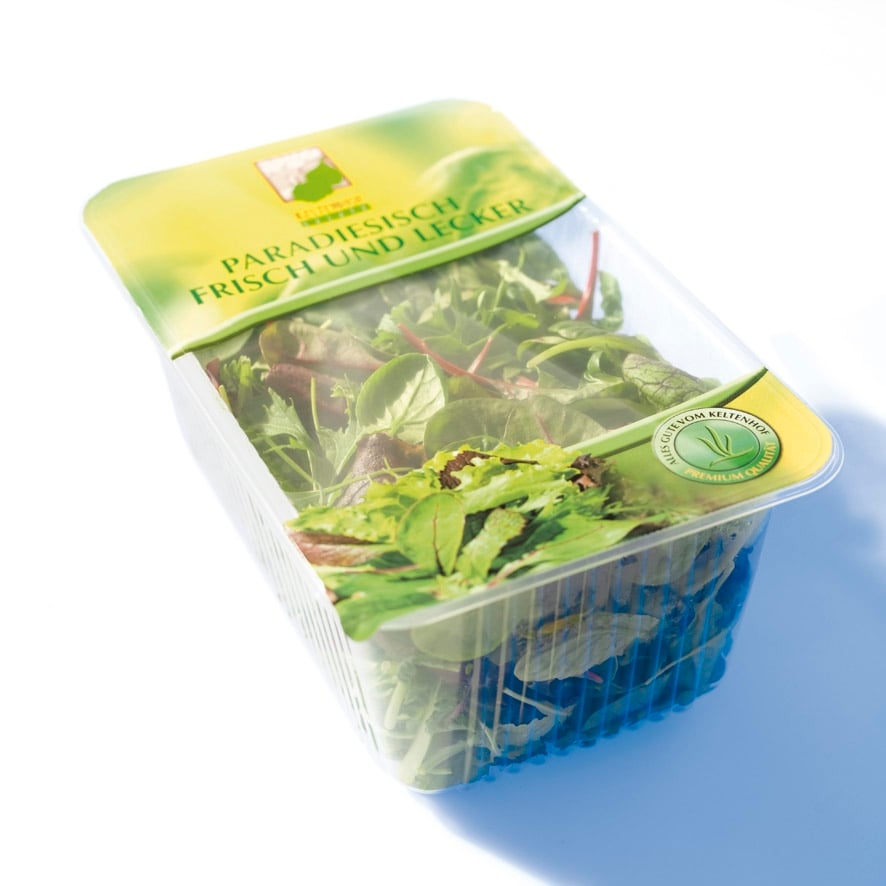 Regulating the breathing process is necessary to prevent drying out or spoiling, so e-MAP was controls the oxygen levels inside the package to ensure that salad is always looking and tasting its best.
Sealpac UK & Partners are dedicated to helping you find the perfect solution for your business. Get in touch to discuss your needs with us, and we'll help you find a solution tailored to your specific requirements - call 0845 302 3056 or send us an enquiry.