Meet Steve – Storeman extraordinaire
Steve is SEALPAC UK's highly organised Storeman and never happier than when he's taking his beloved Honda motorbike out for a spin. Here, Steve reveals all about life in the fast lane.
A logistics natural
Have you always worked in logistics?
"I began my career in electro mechanics, working as a combat powerman in the military before moving into aerospace and more recently into logistics. Just before joining SEALPAC I was working for a company called Dometics, driving a 7-tonne display truck around the country showing off the company's camping products, which was a lot of fun."
"As for SEALPAC UK, I've worked here for a touch over four years now. As Storeman I'm in charge of all the stock we order, hold and distribute. I will buy the parts needed and deal with their shipping, along with that of our machines and tooling, to get them to our customers across the UK and Ireland."
"I really enjoy my job, especially as I get to work independently and have responsibility for managing my own time. It's also a very nice place to work – one of the best small companies I've ever worked for in fact – which is important to me. I wouldn't still be here otherwise!"
Getting things where they need to be
What are your main responsibilities?
"In a nutshell, I get things where they need to be! I'll make sure we've got the parts on the shelf that we need, when we need them. Then get them out to customers as quickly and efficiently as possible."
"I also support the engineering team with proactive maintenance. We know our customers can't afford for a machine to be down for any amount of time. When our engineers inspect the machines, they'll do a report that includes recommendations for any parts that are needed or may be approaching their end of life. If the customer wishes to proceed, then I'll ship those parts out and this helps prevent any issues before they even happen."
"This type of preventative maintenance helps minimise any potential downtime, so production lines are always up and running and our customers are happy! It's all part of the service and we're continually trying to improve what we do."
A typical day
What is a typical day like for you?
"I get into the office for 8.30am and generally leave around 5pm. The first thing I do every morning is manage my emails - I find it's always easiest to look at them first thing, before the phone starts ringing!
"This can be anything from chasing up orders, to sourcing parts that have been requested by an engineer or customer. I'll contact the shipping companies to organise dates and agree prices, I'll also raise any purchase orders that are needed and check that parts we've sent out have been received."
"When the phone does start ringing it's usually customers asking for quotes for parts or finding out whether we are holding a certain part in stock. The shipping companies will ring about sizes and dimensions, and I'll be speaking with lorries about logistics too."
"In between all this, I deal with the fulfilment process from start to finish – picking the parts from stock, packing them and shipping them. I also run purchasing reports and keep an eye on our stock levels, ordering anything that's needed from the relevant companies."
Born to ride
What do you most enjoy doing outside of work?
"When I was a young man and couldn't afford to buy a car to get myself to work, I ended up buying my first motorbike. Since then, I have been hooked!"
"Over the years my bikes have got progressively more powerful and I now ride a Honda CB1000R. But basically, if it's got two wheels and an engine, I love it!"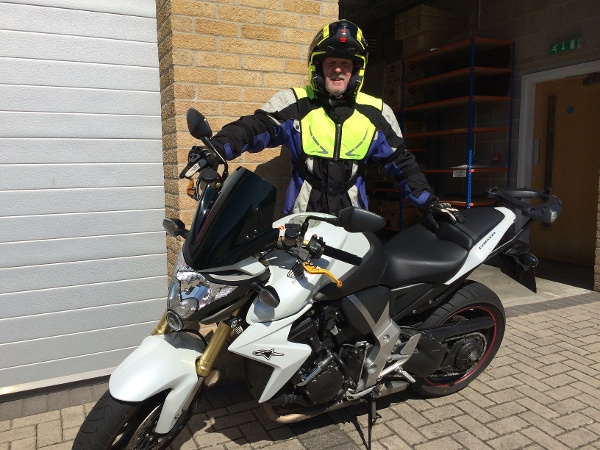 "Every year, usually in May and then for a long weekend in September, myself and five friends will take our bikes off exploring. It combines my two favourite things – biking and eating out!"
"Last year we went to France to visit the site of the D-Day landings and we travelled widely around the area, cramming in as much as we could. The year before we went to Scotland and we've also been to Wales a couple of times."
"Next year we are planning to head to America to travel down Route 66. It's something that has been top of my bucket list for a while now and which I want to tick off before I'm too old. It's going to be amazing, and I cannot wait!"
Steve Davies — passionate about anything with two wheels and an engine!
---