Meet Gary Tufnell - Dad Joke Extraordinaire!

Front man. Problem-solver. Multi-tasker. King of spreadsheets. Deliverer of Complete Packaging Solutions—that's our Product Manager!
And here's how he does it…
Line solutions
There are many layers to Gary's packaging prowess, all with one aim in mind:
"I manage every aspect of SEALPAC UK's product range, from sales support and pricing to implementing new features and concepts—from calling on customers about new projects and representing SEALPAC UK at exhibitions to managing partners for OEM businesses (Original Equipment Manufacturers). By optimising our customers' line solutions, we maximise their Return on Investment."
Helping customers grow
By streamlining and upgrading packaging operations:
"Whether our customers are ready to go down the automation route or not, I analyse their systems and processes to understand and implement the changes that will deliver the optimum line solution to help their business grow.
"For example: A recent traysealer project. We implemented a new concept to deliver a flexible solution which could be adapted to any shape/size of packaging, which could also be repeated across the factory and other sites in line with growth plans. This opened up new marketing possibilities to create a variety of packaging designs, and the ability to add automation of product loading, saving labour costs and improving efficiency—which doubled output. One delighted customer!"
Packaging pioneer
Gary is passionate about promoting innovative packaging solutions within the food industry:
"I play a key role in developing and promoting smart and innovative line solutions to our customers in the UK and Ireland. With the aim of improving efficiency, reducing labour and operating costs, while using a consultative approach and utilising the best of technology and processes."

Packaging pedigree
Gary has over 30 years' experience in the packaging industry:
"After completing an Electrical Apprenticeship, I set my sights on engineering and joined the electronics industry where I was fast forwarded to service engineer within a few months. From here my travelling career in the packaging industry started. I then became a service engineer in a Hampshire packaging company, from where it was a natural leap to SEALPAC UK, where I have spent over 20 years progressing my expertise."
What gets Gary's pulse racing—outside of packaging
The answer involves two wheels, leather and burning rubber: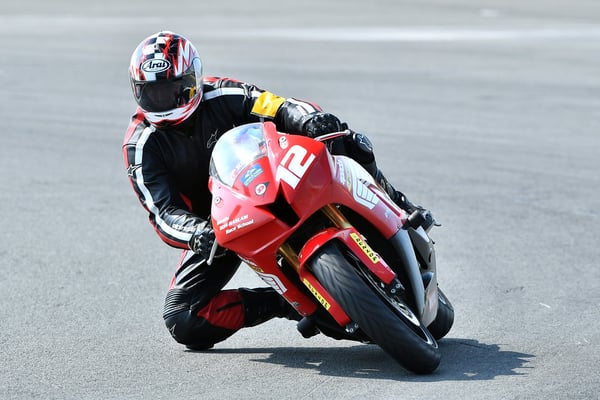 "I've owned 30+ motorbikes over the years and am a confirmed road-racing junkie. I love track days and have the knee-shredded leathers to prove it. Walking, the gym and trying out every tea room going are also in the mix. Plans? Orlando, Florida for the adrenaline rides and Cornwall for the quietness—this Mr Spreadsheet (thanks, guys!) needs balance in his life..."
Well. at least we now know one thing for sure - If there is no spreadsheet, then Gary's not working on it. 😉