FREE CASE STUDY PACK DOWNLOAD:
Expertise in Produce Case Study Pack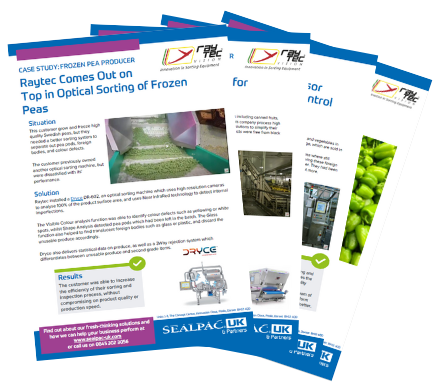 Do you process fruit or vegetable products? Download our produce sector case study pack to learn how Sealpac UK & Partners can help you modernise your production lines and improve the quality of your product.

With these four case studies, you can read how:
A Swedish frozen peas producer were able to better separate out pea pods, foreign objects and contaminants from their batches
An Argentinian fruit processor identified and removed signs of discolouring and rot from their peaches
A market leader in produce achieved a more efficient production line and improved the quality of their diced peppers
And how a fruit and vegetable specialist improved their quality control process for jars of pickled vegetables
Full-line solutions from Sealpac UK & Partners
We design and project manage the installation of bespoke machines across the full production line. Our network of partnerships has helped us to expand our range to offer automated full line solutions which are flexible enough to fit around your business needs and respond to a changing market.