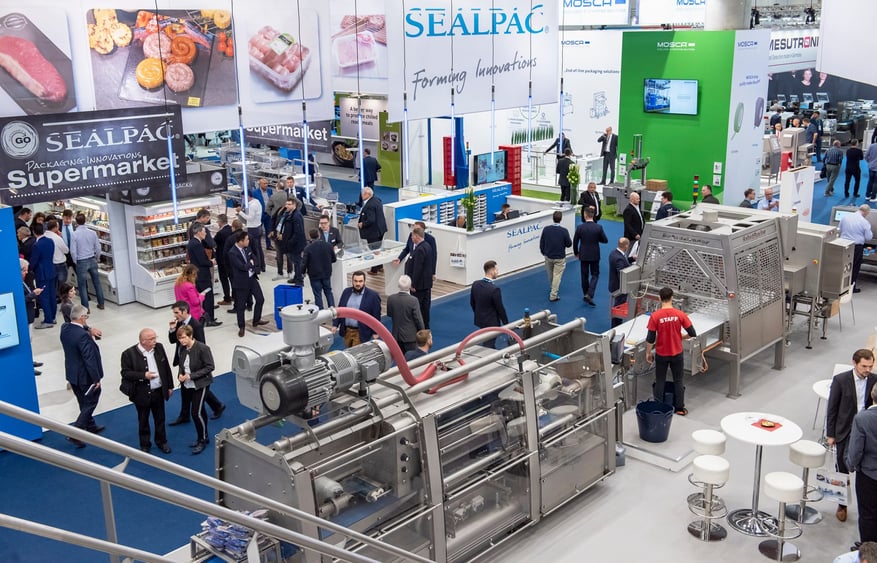 At the beginning of May, the SEALPAC UK team was in Germany, flying the flag for innovative packaging solutions at this year's IFFA 2019 - the leading international trade fair for the meat industry.
Alongside many of our partners and suppliers, we met with show visitors and talked to them about our solutions and how they can help streamline the production line.
But what were the stand out trends at this year's show and what got everyone talking? We asked Product Manager, Gary Tufnell, to give us the inside scoop direct from the SEALPAC stand in Frankfurt.
Reducing plastic is a top priority
With plastic reduction and sustainability such hot topics for the packaging industry right now, it's no surprise that this year's show was dominated by innovations in this area. It is an issue that presents many challenges for manufacturers, but especially for the meat sector where comparable alternatives to plastic simply don't exist.
Everyone is seeking the 'holy grail', fully recyclable packaging that can do the same job as plastic. But it hasn't been achieved yet. (Afterall, you can't hold water in a paper bag). So, the focus remains on the next best thing - 'remove, reduce, recycle'.
That means removing all unnecessary plastic in packaging, reducing the amount of plastic used and recycling everything possible.
It was therefore great to see so much interest around one of the new SEALPAC innovations we launched at the show, the eTray®. The resource-saving system, primarily based on cardboard, is available for common applications in skin and modified atmosphere packaging (MAP). The cardboard carrier and plastic inlay are easily separated, resulting in significantly less waste, reducing the use of plastic by around 40% compared to typical trays and allowing for sustainable disposal and recycling.
The eTray® joins our FlatSkin® packaging system and its 75% reduction in plastic, as a huge step forward in this area and both were clear favourites with show visitors.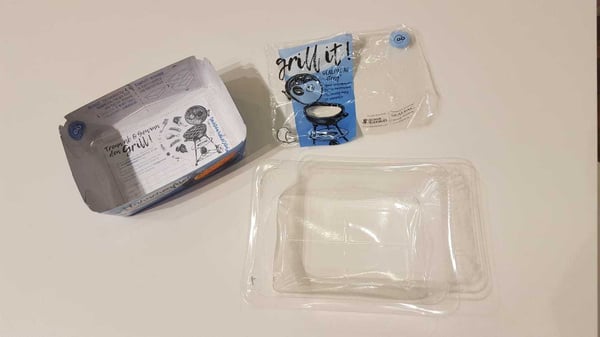 Manufacturers are seeking solutions
Another key trend we saw among attendees is that manufacturers and those in wider industry are primarily concerned with seeking long term solutions – not standalone machinery or equipment.
They want solution-orientated products that will help to improve efficiency and reduce waste, and that again is putting innovation, but specifically AI and robotics, in the spotlight. For example, automation is a huge topic of discussion and being explored as a way to boost productivity, lessen the impact of labour shortages and take cost out.
There was also huge interest being shown in end of line equipment and everything from labelling and weighing solutions, to inspection and quality control.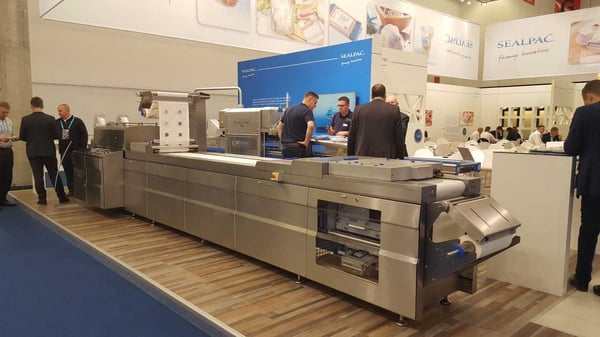 The SEALPAC stand
As for our own stand, our 'Supermarket of Innovations' proved a big hit once again, showcasing new and exclusive packaging innovations from all over the world, with ten fridges for different product segments.
Visitors were also keen on our live cooking area, with demonstrations of ovenable and microwavable solutions by our chef Peter Schlegl.
As well as eTray, we introduced visitors to the SEALPAC PRO14 thermoformer: paper-based packaging - a particularly sustainable packaging solution.
Through a series of live demos we showed how the thermoformer produces packaging for sliced meat products with paper-based bottom and top film. In addition, how it can handle various other applications, from flexible film vacuum packaging up to high-quality skin packaging. Running at 10 cycles per minute, it's particularly energy saving owing to its short vacuum and ventilation times, and economical in its use of materials.
But a key highlight for me has to be trying out the Virtual Reality (VR) experience we had on the stand, which helps you visualize future lines, including auxiliary equipment. It was really something.
If you'd like to discuss any of the items mentioned above please GET IN TOUCH HERE.