With SEALPAC UK, you get full line capability and thanks to the relationships we have built with our specialist technology partners, we've also got you covered when it comes to weighing, sorting, packaging and inspection.

Here we take a closer look at one of our partners, Raytec Vision, and its optical sorting technology. Offering advanced efficiency and precision, it's the perfect solution for ensuring you meet all health, safety and quality standards, while increasing production line speeds and reducing costs and waste.
What is Raytec Vision?
SEALPAC UK is the sole distributor of Raytec Vision in the UK. Developed in Italy, Raytec is a leading expert in optical sorting technology for fruits and vegetables.
A wide range of quality control solutions are available, for products ranging from leaf salad and chopped vegetables, through to potatoes and oranges. The specialist inspection equipment also has benefits for other dry foods, including confectionery.
Why use Raytec?
Key benefits include:
Speed of inspection
Waste reduction
Significant labour savings
Reliability
High production capacity
High levels of quality and safety
Detection in real time
Why do we love Raytec?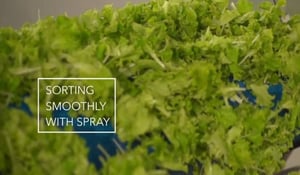 Andy Avery, Technical Product Manager at SEALPAC UK: "Raytec is a leader in its field. It is capable of accurately inspecting large volumes of products very quickly, reducing costs and being highly reliable. We know the labour shortage continues to be a huge issue for many manufacturers and this technology can do at speed, and with greater accuracy, what it would take a large team of people to attempt. Plus, unlike people, machines don't get tired or distracted, making them highly efficient and reliable. For customers who are using these systems, the results have been fantastic."
Customer feedback
For one manufacturing customer who supplies chopped carrots, the introduction of Raytec has led to a substantial reduction in costs. They have been able to achieve a higher quality output, while lowering waste.
By using Raytec alongside their chopping machine, they have been able to extract more from items that would previously have been wasted or given as horse feed. These items are chopped then inspected, with any unwanted bits ejected. This has produced a saving on waste and ensures they are getting the most out of every product they hold.
Here is a detailed run through of three of the key pieces of equipment in the range:
Raynbow
Raynbow uses high resolution sensors and is ideal for checking agri-food products, such as peeled or unpeeled potatoes, tomatoes, carrots, olives and strawberries.
It uses a high-speed double vision system that analyses 100% of the surface of each product, to check for colour defects, marked produce or foreign bodies – even if they are the same colour as the product.
Products are fed onto a conveyor belt that stabilises the items, so they don't roll off. Products are inspected and, if necessary, ejected.
The system can detect the presence of rot and foreign bodies, even if completely black. Visible colour analysis allows colour defects to be detected, such as yellowing. The machine can even conduct chlorophyll analysis to allow very accurate detection of foreign bodies in products with high chlorophyll content, such as apples and green beans.
Spray/Discovery
Spray uses high resolution cameras to examine the product on the conveyor belt. The system can be used with whole or cut fruit and vegetables, including lettuce leaves, cut carrots, diced peaches, grapes, muscles and whole and cut beans.
The product is fed onto the inspection belt, where it is then processed through the inspection zone prior to being separated into the ejection zone. To avoid product sprays which can prejudice selection over time the zones are clearly marked and separated.
The equipment can be set up with a single ejection system or can have two reject systems that differentiate unusable produce from defects considered second choice.
The technology can detect the presence of rot and foreign bodies and colour defects. Translucency analysis enables detection of stones in the dehydrated fruit and contaminants which are on the side towards the conveyor belt, while shape analysis is used to detect small pieces of fruit and green beans. Furthermore, it enables removal of waste, such as pieces that are too small.
Discovery does exactly the same job as Spray, but on a much larger scale.
Dryce
Dryce uses high resolution cameras to examine the product using the "free fall double side view" system, which analyses 100% of the surface of each product. It is specially designed to sort dried and frozen food products, but could also be used for some dry foods, such as potatoes and confectionery.
The equipment is available in two specifications:
· DR-602 - 600 mm vision width, 96 ejection valves
· DR-1202 - 1200 mm vision width, 192 ejection valves
A vibratory shaker built into the machine conveys the product to a vertical chute ensuring a consistent trajectory. The technology can detect the presence of rotten and foreign bodies, colour defects, while translucency analysis enables detection of stones in the dehydrated fruit and contaminants with a different density from the good product.
Other capabilities include the Stem function, which allows for the detection and rejection of stalks, stems, wires or any other thin object in the product stream. The Glass function can also detect and reject transparent pieces of glass and plastic.
See the technology in action
Check out these leaf sorting video and potato sorting videos to see the impressive systems in action.
Want to find out more?
For more information about these partnerships and how the innovative solutions on offer are helping our customers to boost their bottom line, call us on 0845 302 3056.