Automating production lines increases the need for more efficient quality control processes. Since automation allows for a minimal workforce, this means less pairs of eyes are checking for contamination, packaging abnormalities and overall quality.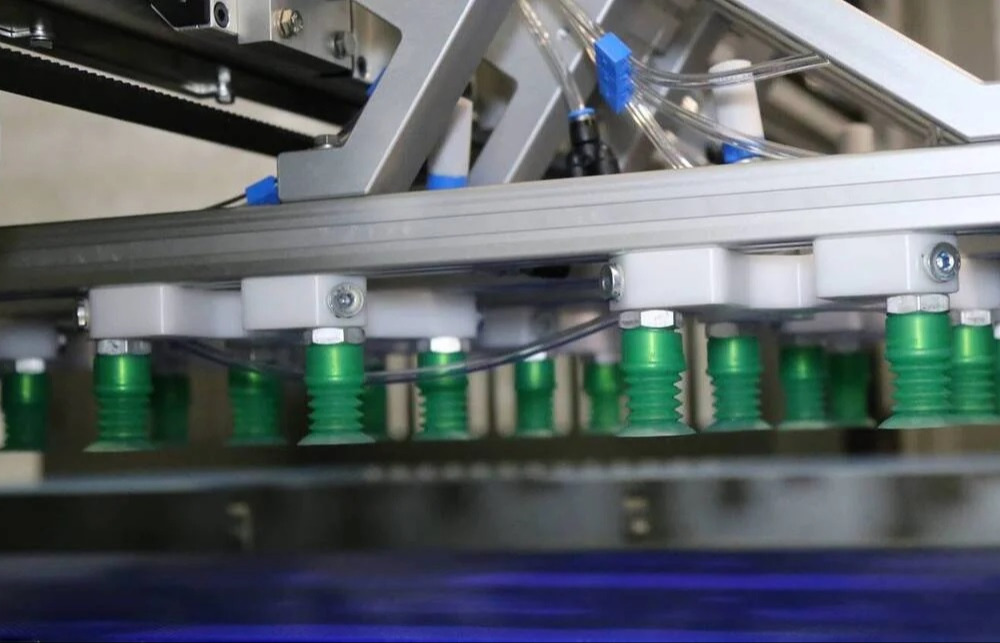 Pulsotronic are experts in end-of-the-line solutions which simplify final quality control checks via automation. Their products are designed for FMCG, as their range includes a variety of handling systems such as specialist conveyors, stacking systems and automated loading.
Optical Inspection
Since less workers are involved in increasingly automated production lines, having strict quality control measures is a must to ensure product safety and quality. Pulsotronic's O12 machine achieves this through flexible optical inspection image processing. The O12 can be integrated into any automated production system to ensure a high-quality product is produced.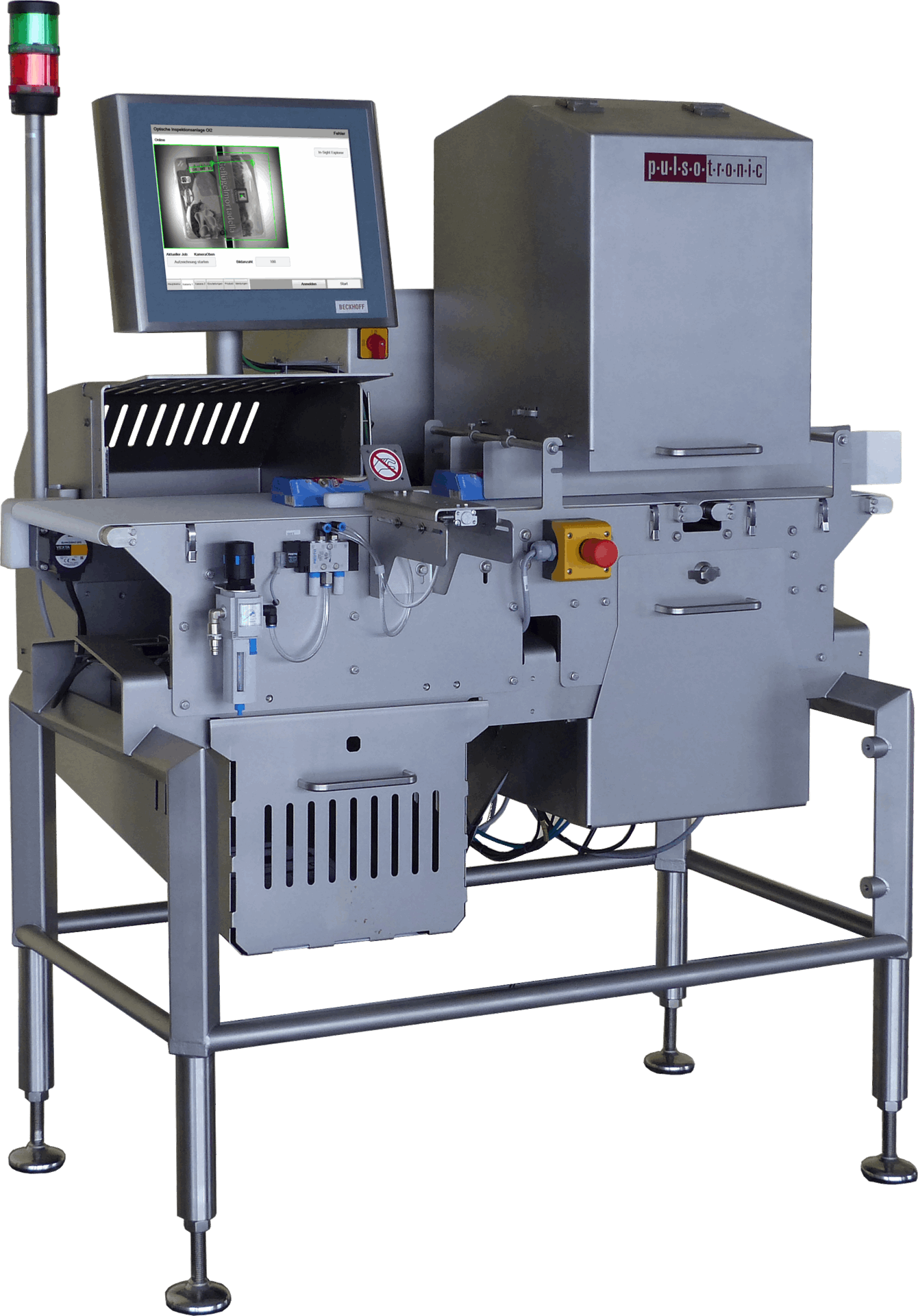 State of the art camera systems are used to perform a thorough visual inspection, and O12's conveyor belt design allows for double-sided inspection of piece goods. Compared with manual re-sorting, the O12 offers greater efficiency and better results.
Checkweighers
Conveyor belt scales, or checkweighers, are a vital part of quality control. In order to comply with food quantity labelling requirements, UK food manufacturers must include an accurate net weight of on their product labelling.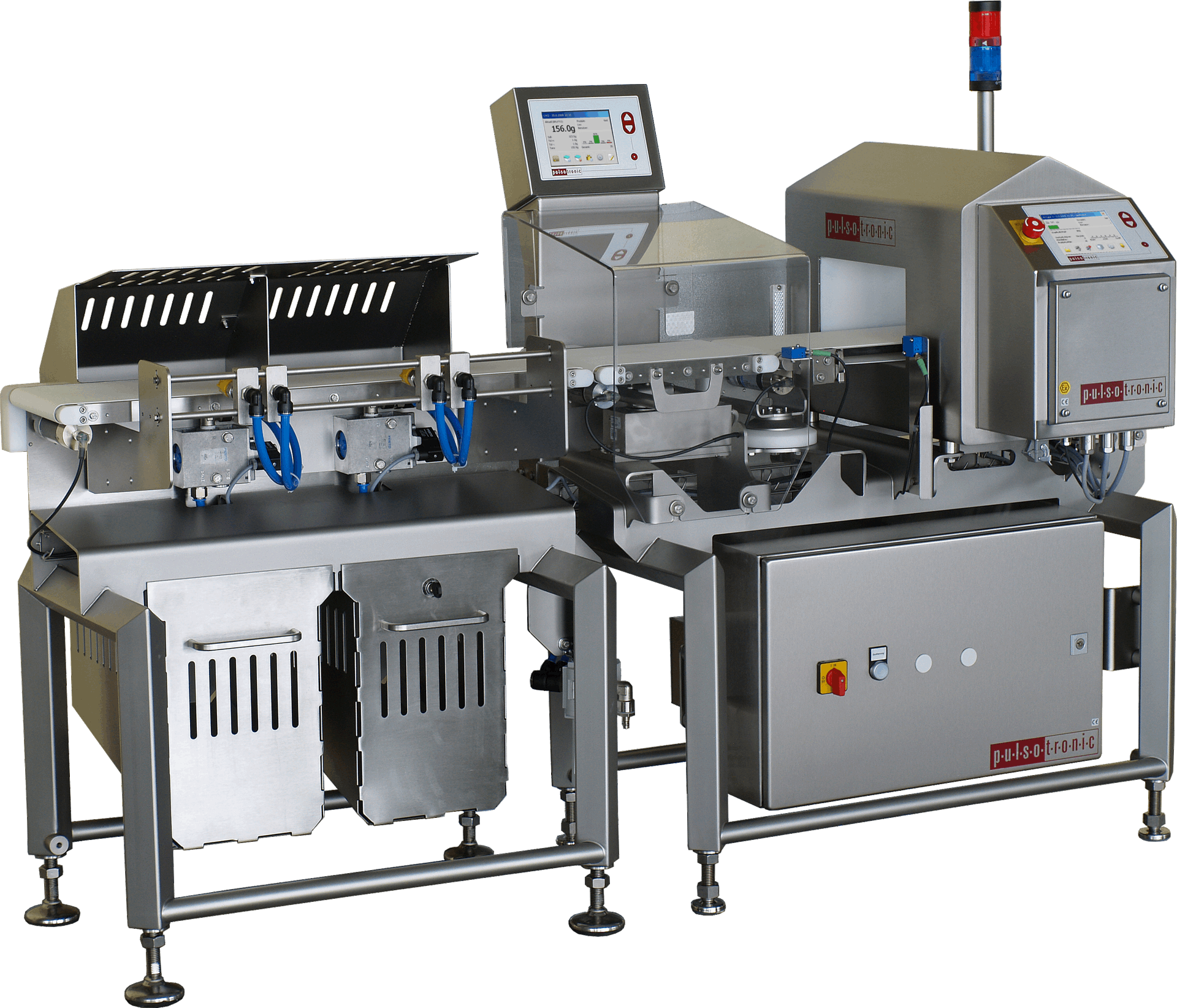 Pulsotronic's CW3 checkweigher facilitates accurate weighing of packaged products, with separate removal of overweight and underweight packages. This machine offers 100% inspection without time consuming manual sample checks.
All of Pulsotronic's checkweighers are available with type approval, where individual products can be checked for specific weight and underweight packages can be removed. This not only improves final weighing accuracy, but also helps to reduce giveaway.
Metal detection
As part of their quality control range, Pulsotronic also manufacture several metal detector configurations, which are designed to detect metallic contaminants with both precision and reliability. Their selection can be used across a variety of applications:
Tunnel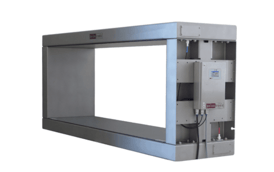 The tunnel design provides reliable metal detection on conveyor belts and slides. This configuration is equipped with high sensitivity magnets which is housed in a hygienic, stainless steel frame.
Different sizes of this design are available for easy integration into existing systems, all of which have low maintenance requirements.
Flat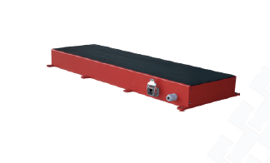 Pulsotronic's flat metal detector can be installed flush to conveyor belts for effortless integration. This robust metal detector is encapsulated in extremely stable, water-tight metal housing. Various models are also available with different resolutions and widths.
Pipes and filling machines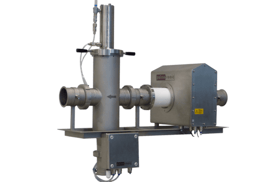 Pipe metal detectors are suitable for identifying metallic contaminants in all fluids and highly viscous products. This configuration is compatible with all common fillers, with various ejector valve available.
All components are of a hygienic design, which allows for easy dismantling for cleaning and the CIP (Clean-In-Process) function.
Freefall separators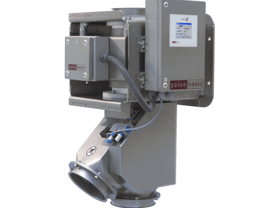 Pulsotronic's unique freefall separators are designed for use under tough conditions, and come fitted with wear-resistant, anti-static product pipes. This design comes with a patented pneumatic ejector mechanism which is also available in special high-temperature designs.
Sealpac UK & Partners are the sole distributors for Pulsotronic products in the UK. We're proud to say that their industry-leading range of detection and quality control solutions has further enhanced our end-to-end processing and packaging lines.