The current food production market calls for high production speeds and volumes. No matter how efficient your staff are, it can be hard to keep up with demand whilst ensuring that your products are of the highest quality.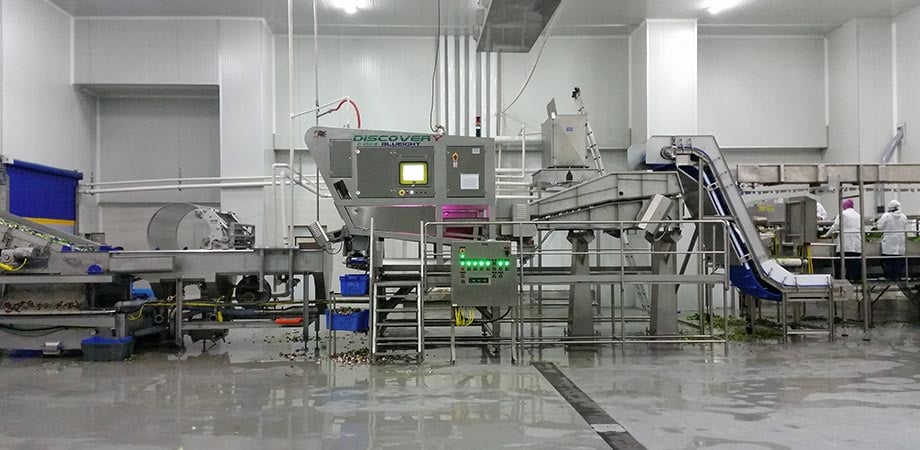 Luckily, Raytec Vision have a solution. Their Discovery optical sorting machine uses the highest resolution cameras to fully automate the quality control process and promote maximum efficiency.
The Discovery is specifically designed to examine whole, cut, and dehydrated agro-foods, making it perfect for the produce sector.
Highly equipped
This octa-chromatic sorting machine is equipped with five different technologies to improve the quality of your product:
NIR (Near Infrared) technology detects presence of rot and foreign bodies inside the product.
Visible colour analysis scans the exterior for colour defects such as under-ripe green product or yellowing.
Chlorophyll analysis provides accurate detection of foreign bodies in products with a high chlorophyll content. This process is especially suited for high-chlorophyll produce such as lettuce, peas and green beans.
Translucency analysis finds stones in dehydrated fruit and contaminants.
Shape analysis identifies small pieces of fruit and green beans, and enables the removal of waste. Pieces of product that are cut too small can also be removed at the same time.
A fully automated solution
Once the Discovery has detected rot, foreign bodies, or any other defects, waste is discarded automatically. Each machine comes fully equipped with an air reject system complete with 288 electronically controlled ejection waves.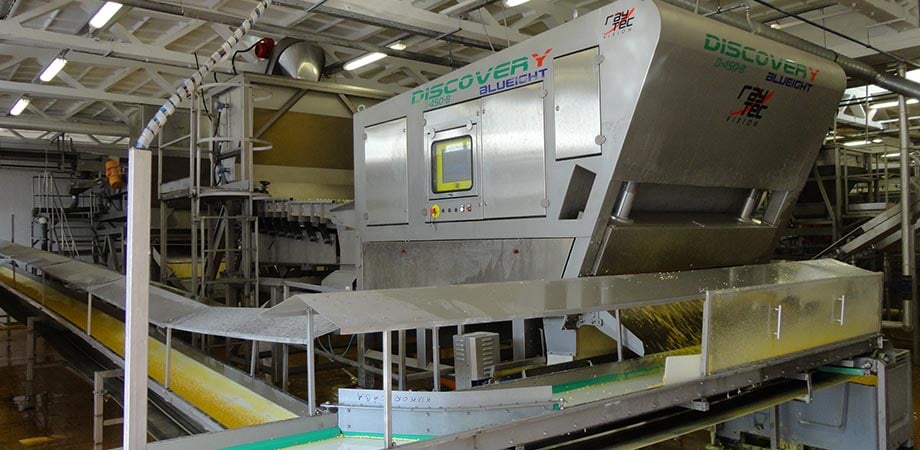 The ejection process can be a just a single grading system or in 3Way mode, which differentiates between pure waste and second grade produce.
The Discovery fully analyses both the surface and body of each product to detect imperfections right to the core. Waste extraction is fully automated, which means you can save up to 100% on your current labour costs.
Keep up with demand
The Discovery offers a very high production capacity, with efficiency of up to 18 t/h and a 3640mm long conveyor belt. As the produce is fed onto the belt, each item is stabilised as it travels through the vision and rejection zones.
High resolution cameras are then used to examine each product through the vision zones. The inspection zone is separate from the ejection zone by design, as to avoid product sprays which can prejudice selection over time. This process is highly compatible with a wide variety of fresh, cut, dried and frozen products.
Raytec's market-leading optical sorting technology cleverly identifies defects, such as marked produce and foreign bodies, even those of the same colour as the product. See how it works with diced onions:
In this example, the Discovery discards green spots, skin fragments and any rotten or foreign bodies.
Statistical data analysis
As well as being a fully automated quality control solution, the Discovery also provides statistical data on rejected produce. Both the qualitative and quantitative data provided can be analysed in real time, which allows a greater understanding and insight into the overall quality of the batch.
Discovery machines also have an Ethernet connection for remote control, giving you even more command of your production line.
Increase your efficiency with the Raytec Discovery machine, which offers not only increased efficiency, but low maintenance costs, user-friendly programming, and a constant selection spanning over three work shifts.
Raytec is leading expert in optical sorting technology for dry foods, snacks, confectionary, fruits and vegetables. Sealpac are proud to be the sole distributor of Raytec Vision in the UK.