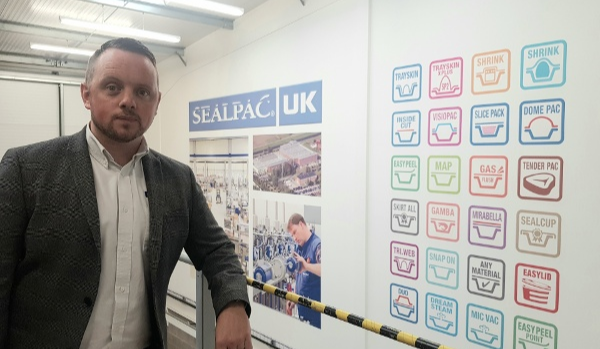 Meet Niall - our Sales Manager in Ireland
A passion for solutions
Niall joined SEALPAC UK in Oct 2014 as Sales Manager for Ireland, having spent years working as an operations manager for a leading supermarket chain. With responsibility for supporting customers across the Emerald Isle, as well as some key accounts in the UK, we spoke to Niall to find out more about his passion for providing solutions.
First point of contact
Customer service forms a huge part of Niall's role, as he focuses on building and maintaining customer relationships.
"For existing customers, I am the first point of contact for any day-to-day support they may require. For example, if they want to launch a new product using an existing machine, I will work with them to provide a solution and show how they might go about it.
"I also organise training and deal with any queries our clients may have, and generally make sure they are kept abreast of new developments in the industry.
"A key aspect of my role is helping customers ensure they are getting the most out of their current machine. The beauty of the systems we provide at SEALPAC are that they are very flexible. And thanks to the relationships we hold with key technology partners, we can further enhance our offering, providing a complete end-to-end solution."
A growing pipeline
Another one of Niall's responsibilities is developing new business opportunities.
"When it comes to new business, potential customers don't just come knocking at your door (unfortunately!). I get out there and look for relevant opportunities, where I can add value. It's a very satisfying process when you can see it through from start to finish - finding someone with a need you can help with and going on to have them become a loyal customer for years to come."
A typical day
According to Niall, one of the secrets of his success is listening.
"I try to see my customers face to face as much as possible, which means I spend a lot of my time travelling. I'm also on the road a lot seeing new prospects. In between meetings I'll do my research so I'm always fully prepared - exploring the background of a company, what issues they may be facing and what type of solutions may work well for them.
"When meeting a prospect, I'll always ask a lot of questions and take a very consultative approach, as the most crucial part of my role is listening. I need to listen so I can really understand what the pain points are and what a company hopes to achieve, so I can best help them."
'Guten tag'
No two days are ever the same for Niall, just like no two businesses that SEALPAC UK works with are the same, but what does he most enjoy?
"There are so many things I enjoy about my role. The diverse nature of what I do is one thing. I also enjoy engaging with all levels of people throughout the industry, from the owners to the operators, the decisions makers to the implementors. This enables me to gain a much greater understanding of each individual business. The better I understand their processes, the stronger the solution is that I can provide.
"Another highlight for me is taking groups of customers across to Germany where they can see our machinery and solutions in action within a select group of factories. It's a great way to get to know our clients and their businesses better, without the limitations of a meeting room.
The big issues
What's keeping his customers awake at night?
"Two of the big issues that customers are concerned about right now are sustainability and efficiency. There's a big push towards recyclable and environmentally friendly packaging and customers are keen to know how they can keep production running smoothly, while improving their carbon footprint.
"Again, at SEALPAC UK we have many options on offer -and I particularly enjoy helping our clients to understand what they can do with their current machine, as well as assisting them in any way possible to achieve their goals.
"Improving efficiency and managing labour shortages, such as through the use of automation and robotics, are also top issues right now. Because of SEALPAC's extensive experience in providing end-to-end solutions, I can talk through strategies and provide ideas and examples"
Downtime
And when he's not busy solving problems and helping customers?
"Outside of work I spend a lot of time with my family. Having two young girls certainly keeps me on my toes. I also enjoy watching sports and am a Liverpool fan (but don't hold that against me!)."
Niall Nash — when it comes to solutions there's no one more passionate